10 Best Oral Health Care Products in 2021
There is no doubt that dental hygiene is one of the most crucial aspects of healthy living. Inappropriate dental hygiene practices always lead to the buildup of plaque, bad breath, cavities, and more. As such, you need to adopt and use the very best oral health care products at your disposal.

And thanks to technological advancement in this industry, more and more people are practicing better dental hygiene practices. In this article, we highlight the top ten of these products that will allow you to floss your shiny healthy, and white teeth, have good breath and mitigate the chances of getting cavities.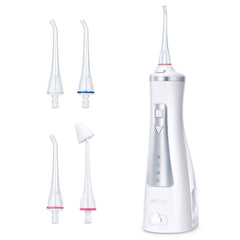 First on our list is this exceptional water flosser from AEVO Company. This type comes with four cleaning modes. You can choose between soft, normal, pulse, or pulse manual mode for optimal teeth cleaning. All you need to do is press the intuitive button. If you want controlled and thorough cleaning, choose the pulse manual mode.
It features a rotatable nozzle to reach every corner of your mouth. And with a high-pressure water jet, it removes all plaque and other particles on your teeth. Besides, it is waterproof allowing you to clean your teeth as you take a bath. And you don't have to adjust settings every time you brush thanks to its intuitive memory.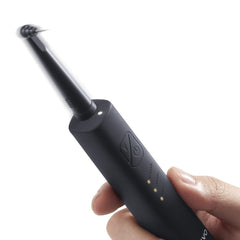 Next off is yet another oral health care product from AEVO. This teeth cleaner comes with two removable heads. They are sharp, pointed, and small in size to allow you to thoroughly clean between teeth. The flat head allows you to clean the surface of the teeth without a fuss. And it is made of products that non-toxic so you can clean your mouth without fear of poisoning.
With it, you do not need to use water. Just choose between the three cleaning modes and you are good to go. If you want a thorough cleaning, choose the mode with the highest vibrations. Thanks to the LED lights, you can clean every part of your mouth, not to mention the dentist mirror.



Quip is a company that never disappoints when it comes to oral health products. And this electric toothbrush is no exception. It features a lightweight and ergonomic design so you can clean your teeth without a fuss. Choose between cleaning modes for comfortable cleaning experience.
It comes with a travel cover so you can carry it around as you go about your business. It uses sonic vibrations for thorough cleaning. It has a long-life battery allowing you to use it for days before the next charge. What's more, you are presented with a fresh brush head and battery after three months by the company.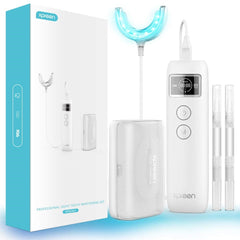 Do you want health teeth whitening? Well, this kit from Breett is all you need. With just 15 minutes of cleaning per day, your teeth will turn white in just 10 days. As such, it is an ideal option for people who want to see results quickly. It features a light technology that removes plaque, food particles, and stain on your teeth allowing you to have a healthy mouth.
Worried about teeth sensitivity? This product got you sorted since it comes with an industry-standard gel that mitigates teeth sensitivity. That means you'll enjoy your warm and cold drinks without worry. You can choose between the four modes to specify the amount of time you'll be cleaning your teeth.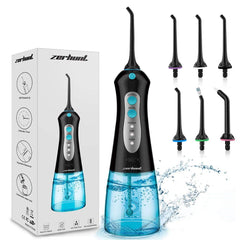 This is yet another water flosser that you need to have. It features a 360 rotatable nozzle that allows you to clean any surface of your teeth. And you can choose between modes depending on how thorough you want your teeth cleaned. And with automatic memory, you do not need to specify the settings every time you brush your teeth.
Thanks to the 300ML water tank, you'll enjoy uninterrupted cleaning without constant water refilling. The best part? The tank is detachable so you can clean it after a few weeks or months. Enjoy comfortable teeth cleaning thanks to its portable and lightweight design. Besides, you can use it for at least 20 days with a fully charged battery.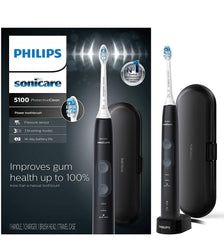 This Phillips electric toothbrush is poised to provide you exceptional teeth cleaning. This type allows you to have a healthy gum thanks to the gentle flat head which is soft to the gum compared to conventional toothbrushes. And thanks to the pressure sensor, you'll know when you apply too much pressure when cleaning.
Do not know when to replace the brush head? Well, this nimble toothbrush comes with a reminder that does alerts you when the head needs replacing. For personalized cleaning, you are provided with three modes that vary in vibration strength. With it, you are sure to remove up to 99.9% of plaque and food particles.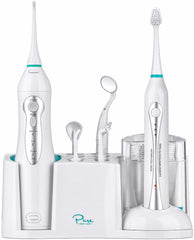 Want an all in one bundle? Why not purchase this AquaSonic bundle. It comes with an electric toothbrush and a water flosser. The toothbrush comes with three modes for personalized cleaning. It also features a charging station which also acts as the storage dock. The integrated water flosser features gentle water jets that remove food particles lodged in between your teeth.
The brush has an exceptional technology that automatically reminds you to clean other parts of your mouth. This means that you'll experience holistic cleaning in one go. And when it comes to charging, it utilizes wireless charging mode so you don't have to worry about cables. The bundle also comes with much-needed accessories such as a tongue cleaner.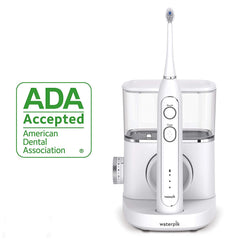 This product features a toothbrush and water flosser. The brush offers better and healthier cleaning compared to traditional toothbrushes. As such, you'll have stronger teeth, healthier gum, and tongue. Choose between brush and floss, floss, and brush modes to clean for optimal teeth cleaning.
You can clean it with warm water after use. It always you to alternate between a brush and water flosser with just the touch of a button. This means you won't waste time alternating between devices. It features a timer, recharge indicator, travel case, and other critical accessories.


If you want ultra-silent teeth cleaning, then this is the brush to buy. It features a silent cleaning mode with ultrasonic technology so you can enjoy healthy gum and teeth. To ensure you use it for a long and during travel, it comes with a long-life battery. The integrated smart timer ensures you follow good brushing habits.
Unlike most electric brushes, it features five brushing modes so you can choose the one that meets your needs. It comes with three removable brush heads and a travel case. Enjoy hassle-free cleaning thanks to its lightweight and portable design.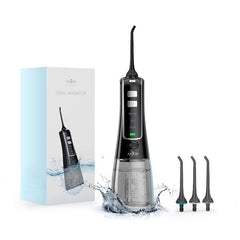 Lastly, we have this water flosser that allows for deep cleaning. With it, you are guaranteed of healthy teeth and gum. It features a high-pressure water jet and a rotatable nozzle that remove 99.9 % of food particles and stains from your teeth.
It features ergonomic and portable design so you can brush without much strain. Thanks to the long battery life, you can use it for up to 15 days at home or as you travel. The waterproof design ensures you can use it even in the shower. Choose between the three cleaning modes for thorough and healthy brushing.
Wrap up
As you can see, these oral health care products offer better services compared to traditional brushes. So, the next time you want to maintain health teeth, gum, and tongue, consider buying either of the above products.
Leave a comment