5 Best Milk Steamers & Frothers for Coffee Making
You don't have to take your guests to a coffee café to enjoy some smooth cappuccino or latte. With a quality milk steamer and frother, you are on your way to making better coffee than your local café. In this article, we look at five milk steamers and frothers for coffee making. But first, features you need to consider when buying one. 
Factors to Consider When Buying a Milk Steamer and Frother
Ease of use
You need a milk steamer and frother that will allow you to make coffee on the go. For example, you should easily use it at home or when camping. Besides, change of settings and other features should be a walk in the park.
Price
Like any other electronic, you should consider the price. Let it be within your budget. You don't need to go for popular brands since cheaper ones still offer similar performance. Besides, you can always upgrade in the future.
Quality
An industry-standard milk steamer and frother might even make better coffee than your local shop. Always consider going through customer reviews and the type of technology embedded in it.
Time
How long does it take to make coffee? You should opt for a milk steamer and frother that takes a few minutes to steam or froth milk. Remember that handheld frothers are slower compared to their electronic counterparts.
5 Best Milk Steamers & Frothers for Coffee Making
These are some of the milk steamers and frothers you can buy.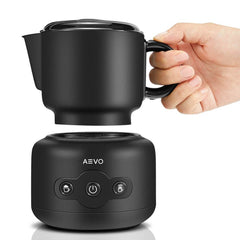 Our pick is the AEVO electric milk steamer and frother that can also heat chocolate on the go. It features a heating and frothing button so you can choose functionality with ease. And when done, you can conveniently press the power button. It is equipped with a die-cast aluminum that heats quickly and a magnetic frother that allows for exceptional foam formation.
Besides, you don't need to keep an eye on the foam formation process since you can specify by pressing a button. It offers you four choices. It is also easy to clean ensuring that it stays hygienic. All you have to do is detach it from the power source. And should you heat the milk to the desired temperature, it will automatically switch off saving on energy.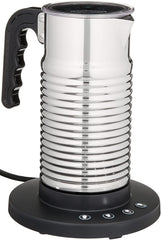 Next on the list is this Nespresso milk frother. Nespresso is a renowned brand when it comes to the production of milk household accessories and this frother is packed with features that ensure the milk is steamed to the right temperature. In fact, you can choose between hot and cold foam giving you a wide array of milk and coffee/chocolate recipes.
The frother is easy to clean and can withstand temperatures of up to 70 degrees. It features an ergonomic handle that is heat-resistant so you can move with your hot milk from room to room. What's more, the easy to reach buttons enable you to change settings on the fly. With a sturdy base, it is less susceptible to falling off when in use.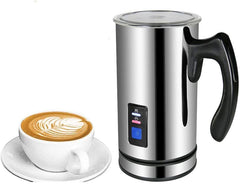 This frother and steamer is made of rust-resistant stainless steel and a double-layer that ensures the milk stays warm for long. And regardless of how hot it becomes, the heat-resistant handle will protect you from burns. With a spout, you'll have an easy time pouring the milk into your cup. It is also equipped with hot and cold indicators, with red being hot and blue cold.
The best part: you can use it for hot and cold frothing. To achieve either of the above, you just need to press the power button and it's done. You can make numerous coffee recipes with it and carry it to your camping site or office.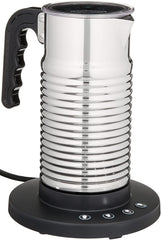 Breville is another sought-after brand when it comes to kitchen accessories and you can bet this milk frother is an exceptional milk maker. It is equipped with a latte frothing disc that provides you with smooth milk that even your kids will love. And if you want thick froth, you can replace the disc with a cappuccino disc.
If you are into hot milk, then this frother got you sorted. You can serve up to three cups and should you be away when frothing is taking place, it will automatically shut itself down. As such, it is less susceptible to overheating. You can also adjust the temperature by turning the temperature knob.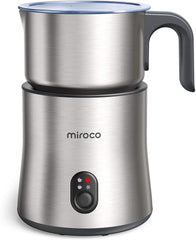 Finally, we have this frother and steamer that lets you enjoy a hot and cold latte, cappuccino, warm milk, and more. It offers exceptional performance and you are bound to find it in some of the cafes around your area. To steam or froth the milk is just a button away. Thanks to its large capacity, you can easily steam 500ml of milk at a go. This makes it an ideal option for a small family.
It is made of non-stick stainless steel making it a safe option since detergents and other compounds do not stick. And when it reaches 100 degrees, it automatically switches off to avoid overheating. If you are into quiet appliances, this Miroco frother won't disappoint.
Final verdict
The above milk steamers and frothers for coffee making have proven beyond doubt that they can make the smoothest coffee and milk foam that your guests or family will love. Before buying, ensure the gadget falls within your budget and it is of high quality.
Leave a comment