7 Skin Care Tools That Are Actually Worth Your Money
Do you want to have healthy and young skin? Well, we got you sorted! Here are 7 skin care tools that you can buy today to kick-start the journey. Let's see how they stack up! 
Want to treat your skin to some warm steam? Well, this AEVO steamer got you sorted. It uses UV light to convert mist into relaxing steam that your skin will fall in love with. What is more, it comes with a high capacity water tank that lets you enjoy up to 15 minutes of uninterrupted steam. Just imagine 15 minutes of soothing steam, you'll almost feel like you are in a spa. Relaxing, right?
And to ensure even distribution of the steam, it comes with a bell-shaped mouth that also ensures optimal steam distribution. That means, all your facial areas will benefit from the steam by opening all the pores. It also features an ergonomic handle that lets you carry it around. And should you have a friend that fancies healthy skin, get them this home spa facial steamer.
Are whiteheads or blackheads giving you a hard time? Trust this blackhead remover vacuum from AEVO. It works not only on white and blackheads, but also makeup, dead skin, oil, and other skin impurities. After using it, you'll enjoy that smooth healthy skin that you've always wished for. You just need to charge it for an hour and you are good to go.
With it, you don't need to visit a skin therapist since it is equipped with light therapy modes that balance moisture, oil, and elasticity of your skin making it glow again. Besides, three suction modes ensure all impurities are done away with. Like the AEVO facial steamer, it keeps blackheads and wrinkles at bay thanks to its cleaning heads.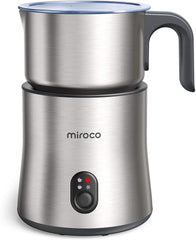 Third, on the list is this facial cleansing brush. This type does not use vacuum suction or steam but rather a sonic vibration to capture oil, dirt, dead skin, makeup, and other particles. Besides, the heated mode facilities ideal blood circulation ensuring that you get healthier and vibrant skin. It features a detachable head that allows you to clean it so you can observe hygienic practices.
 This means you'll have fewer chances of skin irritation and susceptibility to skin diseases. Another thing you'll love about this brush is its long-lasting battery. On a single charge, it can offer up to 3 weeks of facial cleansing. And, you just need to plug it into a USB port for charging. As such, you can use your laptop or power bank to charge it.
If you want a facial steamer that offers face humidification, moisturizing, pores cleaning, and more, then the NEWKEY mask is the perfect fit for you. It utilizes Nano steam technology combined with ionic water particles that ensure rapid and effective water penetration cleaning the skin as a whole. This device improves your skin tone while making you feel relaxed at home.
Thanks to its steam integrated technology, it converts water into steam in just 2 minutes. And with 2 spray guns, your face will benefit from the strong steam capturing all impurities from your skin with ease. Besides, it fights off blackheads and acne leaving your skin looking young and vibrant.
If you are looking for an effective skin detoxifier, this is the perfect bet for you. It will do its job regardless of whether you are at home or traveling. It removes all skin impurities, dead skin, oil, makeup, and other unwanted particles. Worried your hair will get wet? Worry no more, since it is equipped with a bunny ear closure that keeps the moisture away.
With it, you can fill up to 85ml of water or more by adjusting the plug. As such you can steam much of your facial space with ease. And you can include scents and herbs to spice up the steaming process. For optimal results, you can use it for 15 minutes per session. The best part: it is ideal for all skin types. So whether you have oily, dry, or normal skin, this gadget got you sorted.
This is a facial steamer that produces nano-ionic steam that offers exceptional facial steaming. In fact, it helps open the pores of your face capturing dirt and other particles. Not only do you get a facial steamer, but also a blemish extractor kit so you can clean your face effectively. It also acts as a room humidifier keeping your house humid.
Finally, we have this facial steamer that also packs nano-ionic technology. The nano-ionic steam offers exceptional skin penetration compared to other steamers. It makes the soothing steam within 30 seconds and runs for up to 10 minutes. As such, your skin pores will be unclogged ensuring you stay healthy throughout the day.
Final verdict
Well, there you have it, seven skincare products that will always do the job. They will make your skin look healthier and improve your looks. Besides, they are cost-effective hence making them an ideal option for many.
Leave a comment