A Complete Buying Guide to the Heating Pads for Cramps
Heat therapy is a clinically proven way to relieve mensurational cramps. However, it is quite unfortunate that most women are using the old ways to alleviate their pain. A heating pad is an updated and very reliable way to release cramp pains. Do you know what things you should cont sider before buying one? Here we have tips for selecting a heating pad for menstrual pain relief:
A heating pad should have sufficient heat options to relieve sore muscles and cramps

A heating pad should be portable

It should be washable

It should be within budget

It should have a fast heating facility
Here we have listed seven heating pads that we think might fulfill these requirements:
Available for only $22.99 only! 
This heating pad comes in ten different colors and is suitable to recover all your strained muscles. You can carry it around while you are traveling. The transportation pouch makes carrying this heating pad around more convenient. Further advantages and disadvantages are:
Pros:
Three different levels of heat settings

Personalized heat therapy for optimal results

The one-button controller makes it easier to use
Cons:
Not washable

Slow heating
Available for $25.40 only!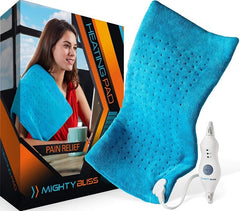 Next on the list, we have the Mighty Bliss heating pad. It is a quality large heating pad that is perfect for cramps. It is made with micro plush fibers that provide you the comfort of your winter pajamas. It gives you the ease of dry or moist pain reliever options. 
Pros:
Fast heating

Large in size

Multiple heat settings

Lifetime replacement
Cons:
It is very light weighted, so it falls off easily

It goes off quickly, so you have to keep restarting
Available for $25.99 only!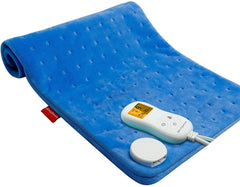 This electric heating pad is known to relieve your full-body pain while helping you soothe anxiety and offering comfortable heat to your back, shoulders, abdomen, and legs. It has a large size which provides comfort and flexibility. The customizable auto-timer is available to prevent the heating pad from overheating. The fabric is soft and washable.
Pros:
It is easy to use

Nine heating levels and a memory function that remembers your favorite heat setting

It can stay on continuously and has eleven auto timers to meet your different needs.

It has soft fabric and washable
Cons:
Available for $27.00 only!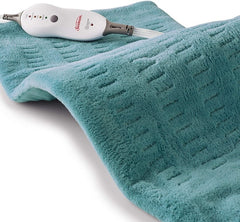 Next on the list, we have Sunbeam's heating pad pain reliever. It is super comfortable and soft with a power supply of 70 watts. It has an LED-controller that will let you switch between four different heat settings. The fabric is safe to use and washable. It is large enough to provide adequate coverage for your back, neck, etc.
Pros:
Customizable heat settings

Easy to use

It has a five years warranty

It has a long power chord for your comfort.
Cons:
It does not have an unlimited shut-off time.

It only comes in four heat settings

No memory feature available
Available for $29.97 only!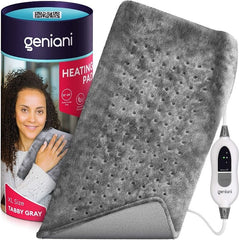 This heating pad is ideal for sore muscles, relieving back pain, and unbearable cramps. The plush fabric is very soft and comfortable on your skin. It provides three heating levels -  low, medium, and high. It has a large size which can easily cover your affected areas.
Pros:
Flexible plush adapts to the shape of your body for maximum comfort.

It comes with a five years warranty.

It provides dry, moist heat technology.

It is washable
Cons:
Auto turn off technology might need to get the heating pad restarting again

Only has three heating levels
Available for $34.99 only!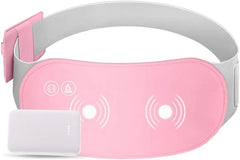 The next fantastic heating pad provides heat along with vibration. BUEHUO's Menstrual Heating Pad has three heating levels and six massage modes. Two powerful motors provide these massage modes. Moreover, it has a built-in battery which a power bank could quickly charge.
Pros:
Customized heat intensity

An intelligent temperature control system

Fast warming and washable

It is a flexible heating pad for your back, waist, shoulders, etc.
Cons:
It does not have a warranty

Slightly over-priced

No controller is available.
Available for $39.99 only!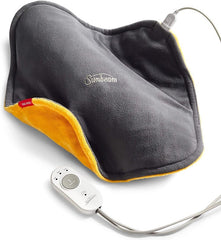 Last, we have Sunbeam's Heating Pad. It provides targeted pain relief while soothing and relaxing your muscles. Although it is light in weight, it stays in place and does not fall off as you move. It has XpressHeat Technology which allows the heating pad to heat within 30 seconds. It has three heat settings to from according to your comfort. It has a soft, comfortable, and washable fabric.
Pros:
Lightweight and stays on the body

High heating facility

Provides a targeted pain relief
Cons:
Smaller in size

No warranty available

Only three heat modes are available.
Conclusion:
No matter what heating pad you use, it is vital to keep your priority right. Therefore, it would be best to invest in a heating pad after knowing what you are looking for.
Leave a comment