A Complete Buying Guide to the Home-Use LED Nail Lamp
For most women, nail paint is an important part of personal care routine. We all have used several traditional nail paint methods but if you want to upgrade your game, you need a home-us me. You do not have to go to expensive salon and pay hundreds of dollars for just getting your nails done when you can do at home as well.
Here are the factors that you need to consider before buying a home-use LED nail lamp: 
1) Types of Gel Polishes:
The first thing you need to consider is your requirement for the type of polish. As you will be choosing from three types of lamps that are LED lamp, UV lamp, and mixed UV LED lamp. The LED nail lamp specifically works on specific gel polishes. On the other hand, a UV lamp can give you more options for gel polishes. Once you have identified the type of lamp you are using, it will make it easy for you to choose the type of gel polishes.
2) Timing:
Another thing you would want to consider before buying an LED nail lamp is the time it takes to do one session. No one wants to sit for long hours to get their nails done at home. Therefore, the speed and timing matter a lot! LED lamps are considered to be faster as compared to UV lamps. You can get your nails cured in just 5 minutes or less. You can also go for a mixed UV LED nail lamp for the best results. 
3) Wattage of the Lamp:
Make sure to check the wattage of the lamp before buying it. If the lamp has a wattage of 12W or more, then it will work efficiently, consuming lesser time. There are also LED lamps that come with 20W, which give instant nail polish curing results. The higher wattage can be expensive, therefore make sure to have a budget to buy a high-quality lamp as you will be using it for a long time.
4) Price:
Now, price is another major factor to consider. LED lamps can be expensive but you get a 100% guarantee of the results. LED lamps with more features and higher wattage will obviously a better option but it would cost more. Make sure to choose the device that is suitable for you to get your nails done at home.
5) Size:
Last but not least, it is all about your convenience. Make sure to choose the size that is easy to handle and can accommodate your both hands. There are multiple LED lamp sizes are available in the market. If you choose a portable device, it will make it easy for your carry around because of its compact size and weight.
Best Home-Use LED Nail Lamp
Now that we have discussed some important factors that will help you choose the best-suited LED nail lamp to use at home, let's move forward to the top options. We consulted with nail experts to bring the best-LED nail lamps for you:
Available at $39.99 only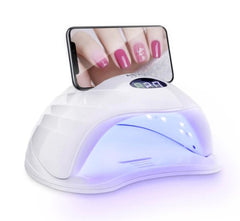 AEVO UV LED Nail Lamp is our top selection when it comes to quality and safety. It is skin-friendly and cures nails using a wide range of polish options including UV topcoats, nail gels, and more. The best feature about this product is that it comes with a phone stand that allows you to watch tutorials while curing your nails.
Pros:
-       Wide range of features
-       Reasonable cost
-       Easy to use
Cons:
-       Doesn't give you a wide range of speed options
Available at $69.99 only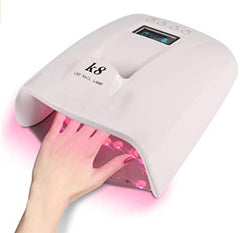 This professional UV LED Lamp comes with a wattage of 60W and can work on all kinds of nail gels including hard gels, acrylic, sculpture gels, and more. This cordless gel lamp can be easily carried anywhere you want because of its compact design and rechargeable battery. It comes with an automatic sensor and 4 timer settings that shuts off easily once your nails are cured.
Pros:
-       4 timer settings
-       Cordless design
Cons:
-       Expensive
Available at $99.99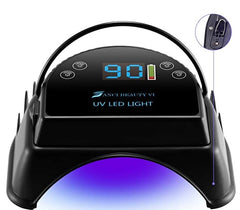 This high-quality and upgraded UV LED lamp comes with a built-in 5200mAH lithium battery that works for continuous 3.5 hours. This professional device has an ergonomic and compact design that allows you to use it conveniently. Moreover, it comes with 28 pieces of durable UV/LEV beads that are compatible with a wide range of gels.
Pros:
-       Premium materials used
-       4 time settings
-       Wattage of 64W, which makes it faster than most devices
Cons:
-       Expensive
Available at $59.99 only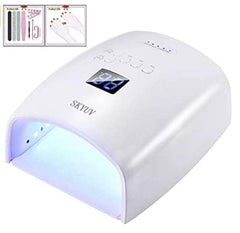 This easy-to-use UV LED lamp by SKYUV is another best option that you must consider for so many reasons. First of all, it comes with a rechargeable 7800mAH battery that gives you a continuous usage of around 4 hours. Secondly, it has 5 timer settings for any type of nail cure according to your needs.
Pros:
-       Long nail cure sessions
-       Rechargeable battery
-       Automatic infrared sensor and time-setting touch button control
Cons:
-       Not as compact in size as the devices mentioned above
Available at $53.99 only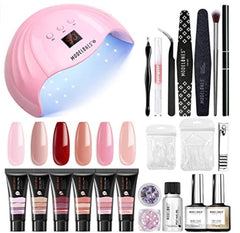 Modelones has brought an upgraded LED nail kit that includes everything you need. It contains 6 different poly nail gets, 10ml of base topcoats, brush, and spatula. Moreover, it has the whole manicure tools that you need. You can file, buffer, and clean your nails at home. 
Pros:
-       The kit is easy to use and give your salon-like results
-       Compact design
Cons:
-       As it has an LED nail lamp, it will only cater to limited options of nail gel polishes
Available at $27.99 only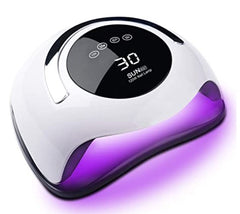 This UV LED nail lamp gives you faster nail curing results. It has 4 timer settings that are 10s, 30s, 60s, and 99s and a large LCD screen. The smart sensor and temperature protection features give quick and effective results at home. Now, you do not have to pay expensive bills for getting your nails cured at salons.
Pros:
-       Affordable
-       Temperature protection for hands
Cons:
-       80W, which is less than other UV LED nail lamps
Leave a comment