Top 10 Best Cordless Water Flossers 2020
Dental hygiene is one of the most crucial things you need to take care of to make sure you have strong and clean teeth every day. It is essential that you brush your teeth after every meal to avoid any buildup and oral disease.
However, aside from the normal brushing of teeth, you need to check out water flossers that do much more. These water flossers enable water to reach every teeth and corner of your mouth, giving it a deep clean.
Cordless water flossers are one of the best things you can have to improve your oral hygiene, but how to choose which one is best? Therefore, we have gathered the best cordless water flossers that you can buy this year. These are carefully selected after a thorough analysis of the available water flossers available for sale.
So, without further ado, let's get onto the list of best cordless water flossers:
Quick Links:
4 cleaning modes
Precise high-pressure cleaning
Waterproof
Rechargeable
Equipped with Mode Memory
The AEVO Cordless Water Flosser has 4 cleaning modes including normal, soft, pulse, and even the innovative manual pulse that enables you to control the water pressure manually for more precise cleaning. It is a faster and more effective way to clean your teeth and gums at home, as it gets rid of up to 99.9% of food residue that is so much more than normal brushing and flossing.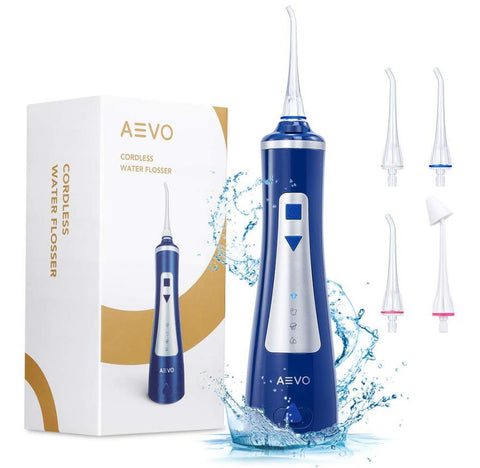 DIY mode for water pressure customization
Auto timer Protect
Rechargeable battery
Waterproof design
Detachable water tank
The Akunbem Professional Water flosser gives away its specs through its name. This water flosser has a unique Do it yourself mode that enables you to find the perfect water pressure to deep clean your teeth and gums. Its memory mode function saves your settings to meet your daily oral hygiene needs and an automatic timer ensures protection.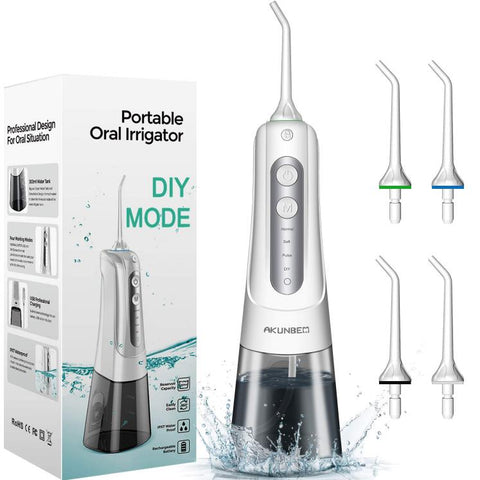 4 cleaning modes
6 jet tips
Mode Memory
Easy to clean
Portable design
With four different cleaning modes, the Lmlly Portable Cordless Water Flosser is designed for beginners to meet their dental care needs. It has an innovative point control mode that helps remove tartar and focus on hard-to-reach areas. Moreover, the portable water flosser has 6 jet replacement tips and a memory function that enables you to clean your mouth daily the right way.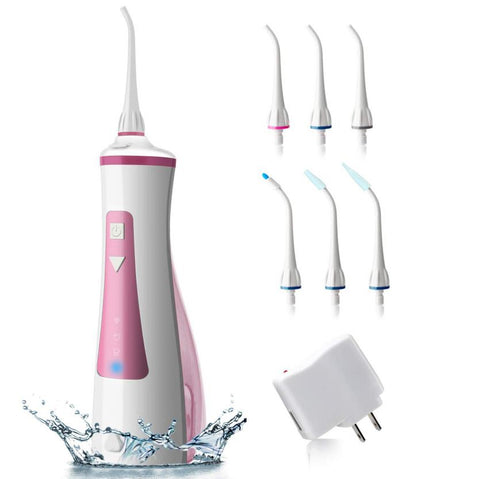 High-powered dental cleaning
Portable design
Easy to use
Two-speed pulse setting
Waterproof design
Panasonic is known for its high-quality electric products, and this one is no exception. The Panasonic cordless dental water Flosser offers high-powered oral care through equipped jets that target pulsing water to reach where a normal toothbrush cannot reach with traditional brushing. It helps remove plaque, bacteria, and food debris for perfectly clean and healthy teeth and gums.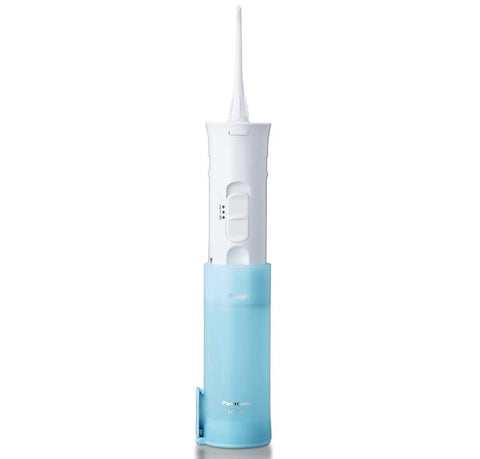 Developed by experts
Two modes for deep cleaning
Portable
Rechargeable
Interchangeable nozzles
Another great dental water flosser is the Belmint Cordless Dental Water Flosser that is developed by experts through advanced engineering for thorough cleaning of the teeth and gums. It helps dislodge food particles in the nooks and crannies of your mouth with the help of a powerful stream. Check this rechargeable water flosser out to benefit from oral hygiene maintenance and having fresh breath and healthy gums every day.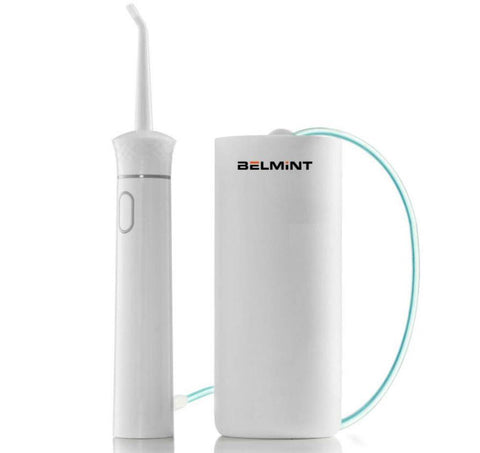 Large capacity detachable water tank
Portable Design
Long battery and rechargeable flosser
Waterproof design
3 Modes and Nozzles that can rotate
The Mospro Professional cordless water flosser is a device worth investing in as it will keep your gums and teeth healthy for life. This amazing water flosser has a 300ml detachable water tank to clean your mouth uninterrupted. The flosser offers 3 different modes for cleaning and has rotatable nozzles to clean hard-to-reach areas. Moreover, the flosser is specifically designed to be travel-friendly with a portable and light-weight design that can be recharged to keep oral hygiene in check while traveling.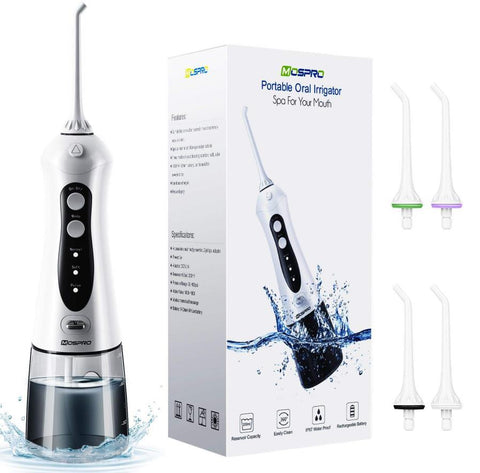 3 Modes and Rotatable Nozzles
Detachable Water tank
Waterproof and Portable design
Long battery life
Rechargeable
The Turewell cordless water flosser has 3 different modes for cleaning your mouth thoroughly, with a detachable water tank that can be removed conveniently for daily use. It has an IPX7 waterproof design that enables safe use in the bathroom and has 4 different pcs of 360-degree rotatable nozzles for the whole family. Moreover, the flosser is rechargeable and has a long battery life that can be recharged with a USB charger.
5 Multifunction Nozzles for different uses
3 Clean modes
Memory Function
LED indicators
Large leak-proof water tank
The iTeknic Cordless Water Flosser comes with five multifunction nozzles that can be equipped for different uses. It has a large capacity leak-proof water tank for convenient use. The water flosser has three different clean modes and memory functions for daily use. This flosser comes with three-standard Jet tips, an orthodontic Tip, and even a manual tongue cleaner that enables you to work on your oral hygiene effortlessly.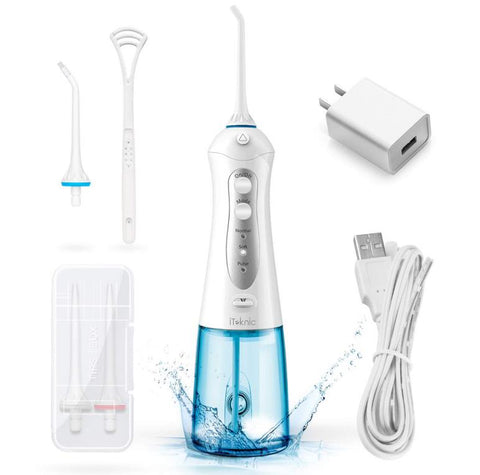 Professional Oral Flosser
Rotating Nozzles
2-minute timer
Portable design
OLED display
Another great cordless water flosser by Liberex, that provides 1600 times/per minute high-pressure water pulse for deep cleaning the nooks and corners of your mouth. This professional oral irrigator comes with 5 different 360-degree rotating nozzles and has 4 different cleaning modes with memory mode. Other than that, it has an innovative OLED display with a protective 2-minute timer displaying the remaining power and avoids overuse of the flosser respectively.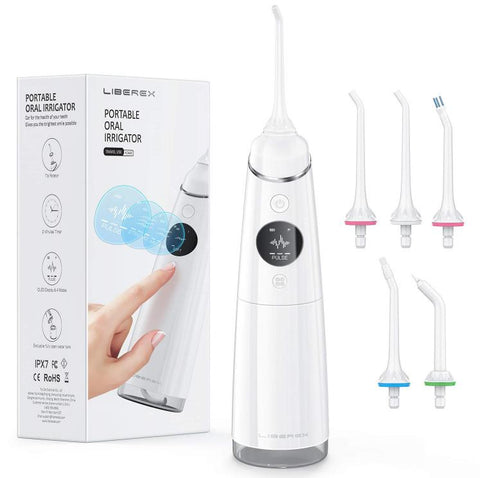 Advanced tech and high-quality
Space-saving water tanks
Waterproof design
2-minute timer for protection
3 different modes
Looking for a portable cordless water flosser that you can take where ever you go and maintain your oral hygiene? Then you need to check out the Vigorun Cordless Water Flosser. This cordless water flosser is equipped with leading technology and manufactured specifically to provide you an effective way of cleaning your teeth and gums for the ultimate healthy lifestyle. Check out this water flosser that had 3 different modes for cleaning the teeth and gums for maintaining healthy oral hygiene.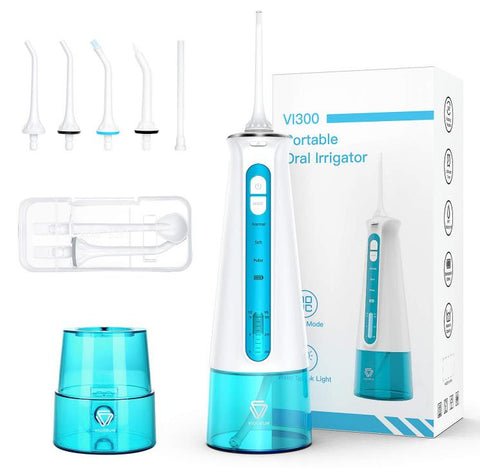 Conclusion:
Making the decision to buy a cordless water flosser is one that you will not regret as your teeth and gums will thank you for it. Your oral hygiene will be drastically improved through the comfortable yet thorough cleaning of teeth your water flosser offers.
We hope this article helped you find the best water flosser for yourself and your family!
Let us know what feature is most important to you in a water flosser by leaving us a comment below. We would love to hear from you!
Leave a comment