10 BEST PORTABLE STEAM IRON FOR CLOTHES IN 2020
Steam irons are designed to produce steam when used continuously. The steam is to remove the wrinkles in clothing a lot quicker than regular irons. Its ability to achieve this is due to the vapour permeating through the clothing fibers. As the steam passes through, the heat from the iron makes is stay in place and ensure better pressing of clothing than the standard iron. Constant travelers, no doubt, need a steam iron that is not bulky or heavy. That is why we have put up this article for you. It's applicable for a minimalist or someone with a little housing space. Check below for them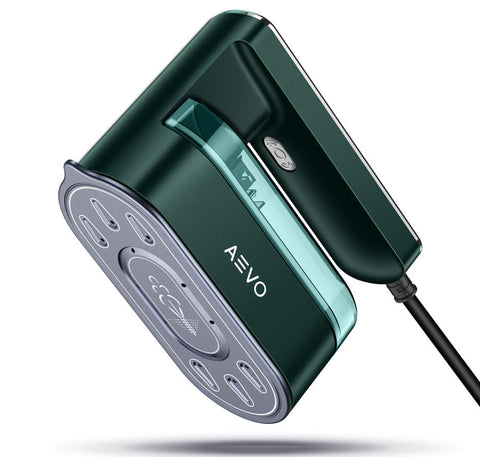 AEVO 2-in-1 Portable Steam Iron for horizontal and vertical ironing is a powerful steamer with fast heating capability. But despite this, it does not burn fabrics due to its overheating protection and consistent temperature. It allows for steaming of clothes continuously for up to 9 minutes with a preheating time of 40 seconds. The AEVO steam iron also removes wrinkles rapidly because it generates steam with more penetrating power than other ordinary steam irons. And even with a high steam generating power, it does not wet the clothing, providing for immediate wear after ironing.
This iron automatically goes off when it detects excessive heat and an electrical fault. And with the soleplate which is leak-proof, it protects your cloth, and hence it is good because your fabric will neither get burnt nor get wet. This AEVO Portable Steam Iron is applicable for most materials such as silk, wool, cotton, linens, and more. It can be used on curtains, tablecloths, sofas, and beddings as well. It is also compact and portable, and because of the lightness, it is an excellent companion for travel.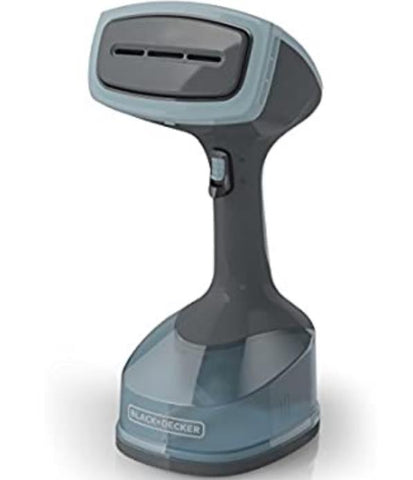 The steamer, while straightening your cloth, offers the advantage of having a very long cord, which is 15ft long and allows for efficient steaming and ironing of drapes as well as a bedsheet. The automatic power-off is also an advantage, and it swings into action after 15 minutes of inactivity. A powerful bout of steam erupts by hitting the steam trigger, thereby removes wrinkles. It also emits continuous steam, and this constant flow of steam ensures the removal of roughness from fabric.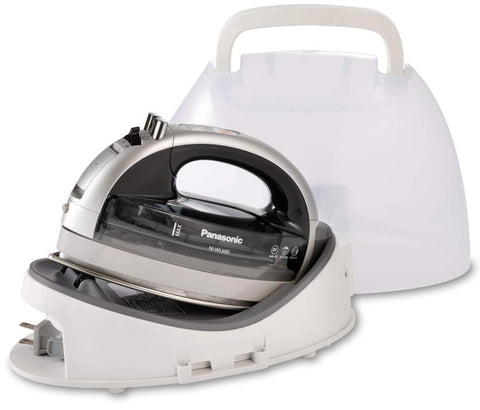 The portability of this iron stems from its cordlessness. Never again do you have to battle with the long and twisted cords familiar with other irons that often end up prolonging your ironing time. The iron permits ironing in almost any direction with impressive speed and precision. The soleplate Is non-sticky and curved to maneuver the curved and flat edges of your fabric. Its control allows you to choose the level of steam and heat that is appropriate for your cloth. Added to these great features is its carrying case that is not only heat resistant but also lightweight. That makes carrying around very comfortable.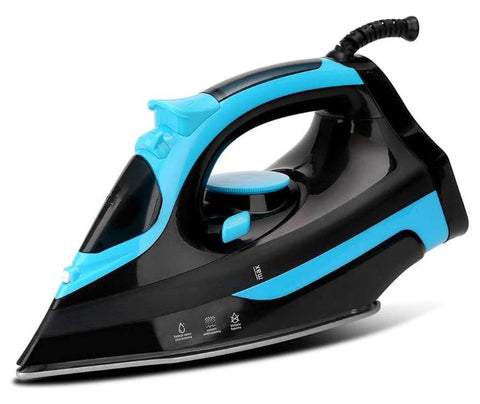 This steam iron is practical and versatile. It has an ironing board of high-grade quality that is non-sticky and smooth. It is not harmful to clothing and always keep all clothing materials smooth and clean. Your dress will maintain their new look all the time and wrinkle-free if you iron with it. With its penetrating power on clothes and fibers, all stubborn wrinkles have no place.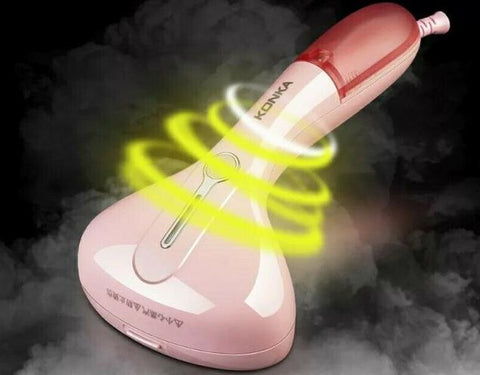 KONKA KSC8152 is another portable handheld garment steamer iron. It has a long-lasting, stable steam injection, with a straight-line jet of steam that makes straightening your dress effortless. You can iron with it for 15 to 20 minutes at one go. It heats up fast and does not damage clothing. Also, it has no complicated mode; so, it is easy to use. You can use it on various fabrics such as cotton, wool, linens, and more. Its different secondary heating and supercharging technology with aluminum alloy nozzle, ceramic glaze, and negative ion powder panel sets it apart. This iron produces dry and not wet steams and therefore does not wet cloth. Enjoy its small and portable size, even as the iron is light in weight, easy to carry around, especially when you are planning a travel. It has a large temperature control system, fuse, and anti-dry function, just as it also possesses an indicator light reminder, button water tank, and extended power cord.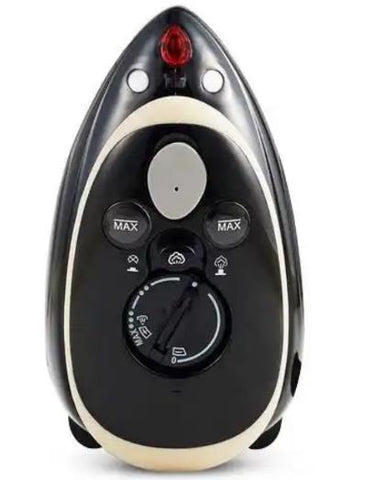 Voaas Portable Mini Steam iron is an excellent travel companion due to its lightweight. It has 3-level temperature control from 650C to 2300C, with each level having its specificity. Level 1 is appropriate for synthetic fibers, silk, and nylon. Level 2 is designed for wool, while level 3 is for cotton. The steam is automatically controlled for safer use and will only come out when the soleplate is level with the floor.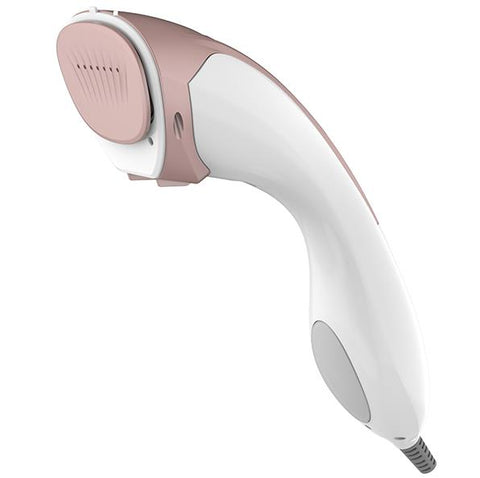 This HS-100 DuoPress Handheld Steamer is a 2 steam iron with a steam-ready time of 50 seconds and a continuous steam time of 8 minutes.  Although it weights a 2.1lbs, it is quite light. It has a dual heating technology that allows for both steam and heat on the ceramic ironing plate. With an extra-long heating chamber, it produces hotter steam, removes moisture while also helping extend the lifespan of the steamer. The water tank, with its translucent window, allows for easy fill as well as allowing for assessing how much water is left. The ironing plate comes with seven vents allowing for even distribution of steam to press and straighten all wrinkles.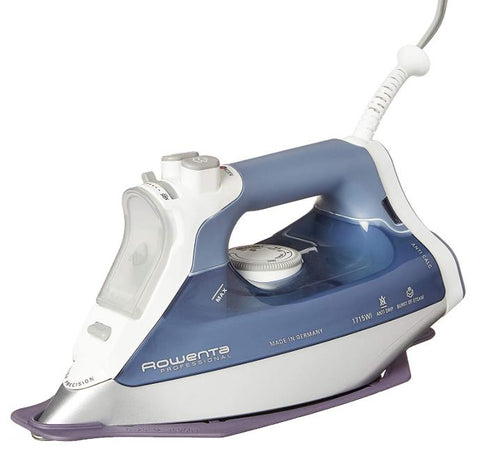 Rowenta professional auto shut off steam iron DW8061 is a high-performance iron with 330 active microholes for steam and high-quality stainless steel for durability. It removes wrinkles and greases in no time. With a 12.7 oz water tank and a high precision shot of concentrated steam, it allows for easy removal of wrinkles and creases. Its steam output is 35g/min, and it has a power cord of 7.9 ft. It is also a durable iron.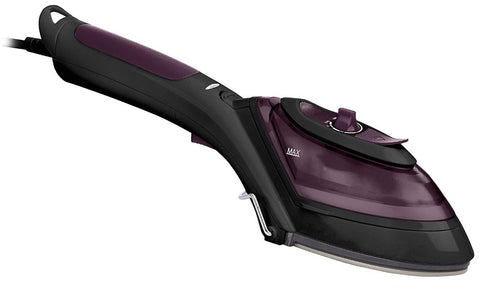 Rowenta DV8613 iron and steamer is a portable iron which is ideal for traveling. Due to its heated soleplate and the temperature, which is adjustable to accommodate any type of fabric. With 800 watts of power, it is a fast-heating ceramic soleplate with steam holes allowing for frictionless ironing. It also has a removable 2.5 Oz. Water tank, which can be filled with tap water and with 15 minutes of continuous steam emission without leaking. The steam spreads across the entire soleplate, and this allows for better penetration with better efficiency.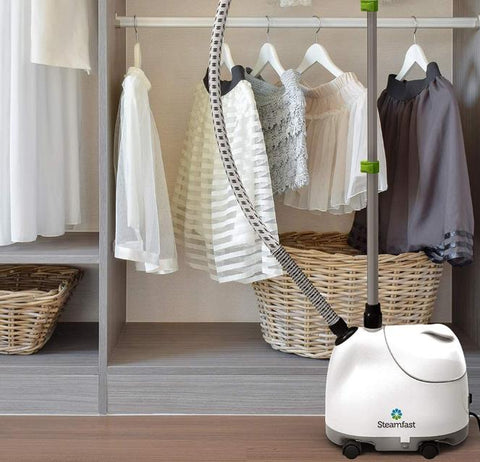 The Steamfast SF-717 Mini Steam Iron is a dual voltage, travel-worthy steam iron. It has a non-stick metal soleplate with an anti-slip handle, making it safe for use with low risk of injury to the user during use. It has a 40-ounce water tank, 45 seconds heat up time, three iron temperature settings adjustable for different fabrics and with a touch of steam control and 45 minutes of continuous steam. It has powerful and quick steam that straightens up wrinkles pretty fast.
Leave a comment