How to Build the Right Hair Care Routine for Yourself
Just like your food needs nutrients and water intake to survive, your hair needs to be nourished too. While we are focusing on our work and other important things, we forget to take care of our hair. Therefore, we end up having hair breakage, thinning, frizz, and other hair problems. If you are looking for the right hair care routine according to your hair type, you have come to the right place.
It is important to have the right hair care routine just like you would want your skin to look and feel good. Searching for the right products or home remedies leaves us feeling overwhelmed. But the first and foremost step is to know the type of your hair. In this guide, we will breakdown everything for you to help you choose the right hair care routine for yourself! 
Know Your Hair Type
First of all, you need to determine your hair type. This will help you choose not only the right hair products for yourself but also the right routine.
1) Straight Hair:
Straight hair seems like a blessing but sometimes it can be a fuss. Straight hair is more prone to getting oily as compared to curly hair. Most people prefer having straight hair and yet end up damaging their hair through many intense processes such as rebonding, thermal straightening, and other procedures. People who have straight hair must use mild shampoo as too many chemicals will end up damaging your hair.
2) Wavy Hair:
Now coming to the wavy hair, this hair type is denser than the straight hair, depending on the types of waves that you have. There are three further types of waves that include loose waves, moderate waves, and defined waves. Those who have this hair type often complain about their hair getting frizzy. They to reduce the frizz is to wash your hair with the right shampoo that can hydrate your wavy hair well.
3) Curly Hair: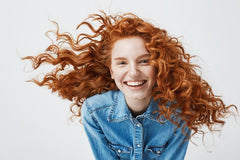 Now coming to curly hair, known to be the most difficult hair type to handle. Curly hair can be a struggle for you because it is hard to handle them. It recommended giving long gaps between your hair washes. To avoid any frizz or damages, it is important to use sulfate-free shampoo on your curly hair. Also, add mousse and hair oils to your regular hair care routine as your curly hair needs to be nourished and moisturized.
How to Choose the Right Cleanser ?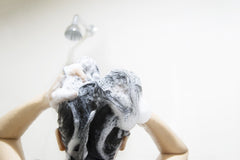 Because of our busy schedules, we pick up the shampoo that is most popular or we see everywhere on the ads without even doing our research. You must know what ingredients that product has before just applying it to your hair.
To maintain your hair, it is crucial to use shampoo every day as it will strip off moisture from your hair strands, making them dry and frizzy.  Let's find out the type of your scalp to choose the right cleanser for you:
Oily Scalp:
People who have oily scalps feel an urge to wash their hair on a daily basis, but it is something you must avoid. First of all, make sure you are using the right shampoo that does not make your hair too dry. In that case, the natural oils from the scalp are released in order to moisturize it. Therefore, make sure that you are giving long gaps between your hair washes.
Normal Scalp:
Having a normal scalp is a blessing! The best thing about having a normal scalp is that you can wash your hair whenever you want according to your needs. If you are that lucky person, you do not have to worry about your scalp getting oily or dry too easily. To keep maintain the PH level of your scalp, it is important for you to use soap-free hair cleansers.
Dry scalp:
If you are one of those people who have a dry scalp then, you must avoid washing your hair daily. You can just wash at least once a week and you are good to go. Make sure to use sulfate-free shampoo on your hair as it is gentle and does not have harsh chemicals.
Some Important Tips for Healthy Hair
Having healthy hair is a dream of every man and woman. You can have strong and shiny hair just by making a few changes to your hair care routine. Here are some important tips that will help you get effective results:
1) Balanced Diet:
A balanced diet is the key to not only a healthy body and skin but also healthy hair. It plays a vital role in the nourishment and growth of your hair. Start paying attention to your food intake. Are you taking enough vitamins and other nutrients? If your diet does not contain foods rich in omega-3, then you are missing out on so much! Ideal foods for healthy hair include blueberries, fish, eggs, spinach, walnuts, and avocados.
2) Always Apply Heat Protectant:
Many people do not take this step seriously! Excess heat to your hair will not only change the texture of your hair but also cause hair breakage. Your hair deserves to be nourished and moisturized therefore, make sure to apply a heat protectant spray on your hair before styling them. This will help you retain the moisture in your hair strands. Also, keep your straightener or curler at a low temperature while styling.
3) Apply Oils:
Oiling is the best solution for healthy hair. One of the most effective oils that you can apply is coconut oil that will immediately nourish and replenish your hair. You can also mix different oils such as coconut oil, almonds oil, and olive oil and apply the mixture twice a week on your hair for effective results. 
Leave a comment