How to Choose the Cordless Hair Clipper for Home Haircuts
As COVID-19 has limited our outdoor visits, it is not safe to go to a salon on a regular basis. In fact, you can easily get haircuts at home. The most important thing other than a suitable pair of scissors is a cordless hair clipper. Using cordless hair clippers allows you to make sections of your hair and get a haircut in the most convenient way. Even the professional hairstylists use these clippers extensively. So if you are looking for the top quality and easy-to-use cordless hair clipper for your haircuts at home, you have come to the right place. We have brought the top 5 cordless hair clipper suggestions for you after consulting the hair experts. Let's start with the benefits of using cordless hair clippers.
Benefits of Using Cordless Hair Clippers
Why getting into a hassle if you can make haircuts easy with cordless hair clippers. Hair clippers can be easily used by both women for haircuts and men for shaving their beards. Here are some of more advantages of using cordless hair clippers:
Using hair clippers allows you more control over the hair hence increasing your overall performance. The clippers give you access to even the difficult areas, allowing you to achieve the required results.
Another best thing about using a cordless hair clipper is that you can put in batteries and take it anywhere you want. Men can easily take the clipper to their business trips for daily grooming. While women can also carry it in their purse and use it anywhere they want!
As regular visits to the salon for hair trims or shave cost a lot! A cordless hair clipper is actually an affordable way to groom at home. It does not only save your money but also your time!
Factors to Consider While Choosing a Cordless Hair Clipper
There is a number of things that you must take into consideration before spending money on a hair clipper. You will find a number of hair clippers in the market but you have to make sure what you need it for. Here are pointers that will help you choose the best-suited hair clipper for yourself.
Quality should be your top priority while buying a cordless hair clipper because you are going to use it on a regular basis. The quality varies from one clipper to another clipper but if you are buying it for a haircut or trim at home, make sure to choose the best-suited item with sharp and strong blades. Moreover, it is a wise idea to check the customer reviews of the product.
Another important factor that you should take into consideration is the motor. Make sure it is efficient enough to be used on a regular basis. If the device has decent blades with a good motor, you can easily cut hair at home smoothly without any hassle.
Now coming to the accessories, many people fail to consider this factor. If the clipper has accessories with it, the haircut process will become a lot easier. Whether you need a cordless hair clipper for professional sessions or for haircuts at home, make sure you have the whole kit with accessories such as:
Blade Guard

Oil for the Clippers

The right comb

Head Cover Cape

Clips

Cleaning Brush
Top 5 Cordless Hair Clippers
1) AEVO Cordless Rechargeable Hair Clipper
Available at $39.99 only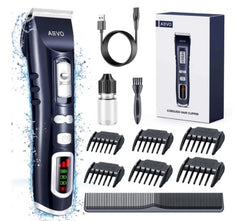 The AEVO Cordless Hair Clipper is our top suggestion if you want a professional hair clipper to use at home for haircuts. It comes with sharp blades that cut even the thickest hair. The kit contains 4 adjustable blades of different lengths with 6 guard combs that allow you to have a haircut with ease. Another feature that makes it our top selection is the USB-Rechargeable battery that can go up to 5 hours with a single 2-hour charge.
2) Wahl Clipper Lithium-Ion Cordless Haircutting Kit
Available at $46.38 only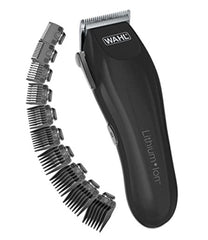 Another item that has made it to our top list is the Wahl Cordless Haircutting Kit. This clipper has exceptional performance with a high-quality motor and blades. You can also get a quick charge in case you are in hurry. Just a 15.-minute charge will give you a fast 3-5 hour run. The accessories that come with the kit also includes 10 secure smooth cutting guards and an ear taper.
3) SURKER Men's Hair Clipper Professional Hair Trimmer Barber Clipper Set
Available at $50.99 only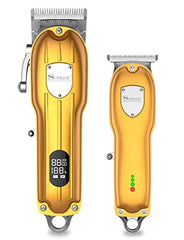 This professional home Barber Haircutting Kit is all you need for the best haircut results. You do not have to go to the salon and spend on expensive haircuts and trims. The SURKER Men's Hair Clipper kit comes with a hair clipper, incorporated trimmer with an efficient motor, ear taper, and premium quality rechargeable battery. With only 2 hours of charge, you can get 240 minutes of a run. You can easily get a super professional haircut at home with the high carbon steel blades that are easy to clean and store.
4) Romanda Professional Hair Clipper:
Available at $42.99 only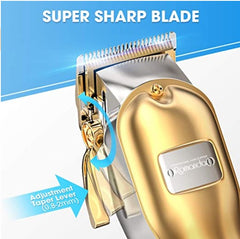 The Romanda Professional Hair Clipper has made it to the top list after our experts tried and tested the various hair clippers. First of all, it has a motor that is efficient with 6000rpm and cuts through even the thick hair with ease. You do not have to worry about hair pulling as the stainless steel cutter gives a neat and smooth look. This clipper comes with a Lithium-ion battery that gives you a run-time of continuous 5 hours. You can easily take it on your business trips and have a quick trim or haircut anywhere you want!
5) Wahl Clipper Self-Cut Personal Haircutting Kit
Available at $44.99 only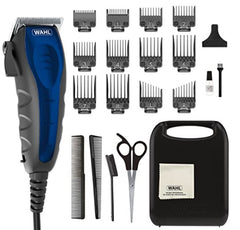 Last but not least, Wahl has come up with another professional model of hair clippers that will make your haircuts much easier! Wahl Model 79467 Clipper Self-Cut Personal Haircutting Kit comes with lots of useful accessories such as scissors, combs, batteries, cleaning brush, and much more, which is hard to find anywhere else! You can a detailed haircut by yourself targeting not only your head but also your ear, neckline, and sideburns.
Leave a comment