How to Choose the Home-Use Retro Toaster
A kitchen does not seem complete if it does not have a toaster on the counter. No matter how advance your kitchen is, a home-use retro toaster always brings charm to it. People who like their kitchen to be organized and set with modern kitchen appliances can add a touch of vintage by having a retro-designed toaster.  
Retro toasters are available in a wide range of colors and designs that allow you to choose a perfect option to enhance your kitchen. Not only you can get your favorite toast breakfast every day, but you can also sit and enjoy your food in your upgraded kitchen with your family. In this article, we have brought the top 5 home-use retro toasters for you with the best features. If you are having a problem deciding a toaster for your kitchen, you have come to the right place.
Benefits of Home-Use Retro Toaster
If you are still thinking about getting a retro toaster for home-use, these benefits will help you make your decision:
1) Style:
The first and foremost benefit you get with a home-use retro toaster is its design. While you can easily make a toast in a regular toaster, a retro-designed toaster enhances the aesthetics of your kitchen. The stylish look of your kitchen and appliances inspire you to put the effort into your daily meals. If you are looking for a toaster for your kitchen, consider getting a retro-designed one and see the difference it makes!
2) Convenience:
It is not just about the vintage look! A retro toaster brings convenience and ease to your toasting skills. It comes with features such as reheat, defrost, bagel, and warming rack. If you feel like reheating your toast, you can do it without burning it. Moreover, you can gently defrost the bread without making it soggy. The retro toaster does not only crisp the bread, it can also be used for producing crispy and warm bagels. There is so much you can do with a home-use retro toaster.
3) Affordability:
For most people, price is a major concern! The good news is that you can easily find a retro toaster at an affordable price. Instead of spending money on a regular toaster, you can get a retro-designed toaster in your budget. This way you can get both a great design and a high-quality toasting machine.
Factors to Consider before buying a Retro Toaster
 There are different factors that you can consider while choosing the best retro toaster for your kitchen. Let's get started:
1) Size:
A retro toaster comes in a wide range of sizes and shapes. It all depends on the space and design of your kitchen. In addition to that, if you have a big family, you can consider buying a 4-slot retro toaster. This way you can make 4 toasts at one time, saving time and energy.
2) Ease of Use:
Another important thing to consider before buying a toaster is its convenience while using. Look out for the features that the toaster comes with. You can also read reviews of people who have used the toaster machine. Make sure it is easy to use and clean.
3) Price:
Last but not least, the price might a big factor to consider. Do not go for a cheap machine just to save some money! Make sure to get a retro toaster that is durable and easy to use. As you will be using it for a long time, it is better to go for a high-quality retro toaster.
Top 5 Home-Use Retro Toaster Recommendations
Available at $49.99 only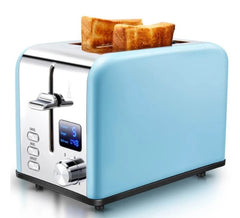 The super-advanced AEVO 2-Slice Retro Toaster is our top selection for so many reasons. First, you can just customize your toast with 6 toast modes. Whether you want to defrost, toast a bagel, or reheat your toast, you can do it easily with this high-grade toaster. Secondly, it has extra-wide slots that allow you to make everything from toast to waffles. Last but not least, you can clean this toaster without any hassle as it is made with food-grade stainless steel, which also makes it easy to maintain.
2) CUSIBOX 4-Slice Retro Toaster
Available at $62.99 only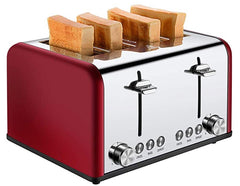 The 4-slice retro toaster by CUSIBOX has made it to our top list because of the advanced technology it comes with. You can easily get 4 toasts at one time, saving yourself from spending extra time and energy. The slots are wide enough to toast both thick and thin slices. CUSIBOX retro toaster comes with 6 browning settings with 1650W high power that allows you to make toasts the way you want. Moreover, you don't have to worry about the maintenance of this toaster. It has 2 removable trays, which are extremely easy to clean.
Available at $59.99 only
This efficient 4-slice retro toaster is another best option that you can consider. It has a 7 shade control feature, giving you leverage to toast from light to dark brown. The 4 extra wide slots also provide you a broad range of options from toasts to waffles. With CUSINAID 4-Slice Toaster, you get 3 easy touch buttons i.e. Reheat, Defrost, and Cancel. This advanced toaster is also a great option to give as a gift to your friend at Christmas or a wedding.
4) Russell Hobbs 2-Slice Retro Style Toaster
Available at $79.99 only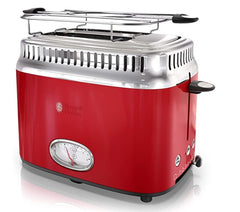 Another amazing toaster choice that we have brought for you is Russell Hobbs 2-Slice Retro Style Toaster. It comes with a removable warming rack, which allows you to warm buns, pastries, and waffles. In addition to that, there is a toasting timer that allows you to set time. You can select any level you want as this toaster provides you 6 levels from light to dark brown.
5) Cuisinart CPT-180P1 Metal Classic 4-Slice toaster
Available at $69.95 only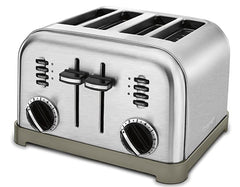 This high-grade 4-Slice retro toaster is made up of stainless steel that provides you easy maintenance. It comes with custom control of 6 settings that include browning, reheat, and defrost. In addition to that, the slots are wide which allows you to toast both thin and thick slices.
Leave a comment