How to Choose the Milk Steamer & Frother for Home-Use
Winter is a time when everyone would like a hot, milk-based drink. These drinks include hot chocolate, latte coffee, cappuccino, etc. The role of perfectly frothed milk in these drinks is very vital. Today we have electric devices that have given us the comfort and ease to froth our milk easily. However, the frothing of milk was practiced in houses even before these electrical devices were invented.  This was achieved with great struggle, and even today, frothing milk for coffee at home without a machine is not an easy job.
Frothing milk before adding it into coffee, lightens it and gives a creamy texture to your coffee. The heavy foam and tiny bubbles on your coffee formed are because of the frothed milk. There are many benefits to using a milk steamer and frother at your home. Here are a few:
Easy to use
The milk steamer and the frothing machine are very reliable as it helps you prepare an excellent coffee cup at home. Both; steamer and frother are easy to clean and make no mess. It gives you several options for frothed milk to choose from according to the type of milk drink you want to have.
Duality
 The two in one feature of this machine will occupy less space and time. The steamer and frother are one device with two whisks; one for steaming the milk and the other for frothing it.
Ease with button
You can choose from the button what type of coffee you want to have today. From steaming the milk to frothing the top, everything is done with buttons. Choosing cappuccino coffee will give you thick, creamy foam, while a latte is for a smoother, light milk texture.
If you are looking to buy a milk steamer and frother for your home, we understand your reasons. Here we have listed some important points when selecting a milk steamer & frother:
Select a budget
Today, milk steamer and frother come with almost the same feature, yet they have different quality and prices. It is recommended that you settle for a budget and look for a device within your budget range. All that matters is the right choice. A famous and expensive brand may intimidate you with great advertisements, but what matters the most is the budget and quality.
Manageable
When buying a device, many people ignore the primary quality that it should be easily operated. If you are a traveler and would like to take your coffee maker with you, make sure it has a compact size.
Quality of forth
Not all froth makers deliver exceptional quality. In contrast, the froth quality matters a lot because it is why you want a froth maker in the first place. Moreover, you must know how to make a good a froth as beginners might not be able to use it effectively.
Here we have listed our recommendation of milk steamer and frother you must consider while buying for home-use.
     Available for $89.99 only!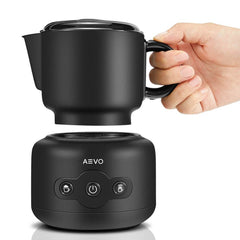 AEVO Electric Milk Steamer & Frother is a two in one device. It has independent heating and fronting buttons so you can choose your style. The body is aluminum coated so that the milk heats up faster while in frother is an integrated magnetic for defined and delicate foam. Moreover, it has four different modes to choose from, which gives your drink the perfect temperature and texture.
Aevo's Electric steamer is easy to clean as the pitcher detaches from the steamer for handy disposal. The thermistor of the steamer keeps the milk from getting too hot. It automatically shuts off the steamer when the pitcher is emptied or when detached.   
Available for $129 only!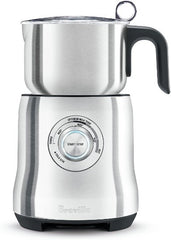 Breville Milk Cafe Milk Frother can make 3 cups of frothed milk. It has an auto-switching off feature; when the milk is frothed, it turns off its own, preventing overheating the milk. You can make hot chocolate or flavored milk by adding ingredients in the milk directly through the jug. The adjustable temperature evenly distributes the temperature, giving you perfectly heated milk, and is auto turned off once the desired temperature is achieved. The frothing is available in two options: latte frothing, thin and silky milk, and cappuccino for thick creamy foam.
Available for $199.95 only!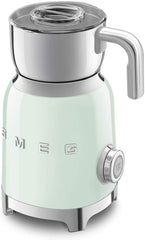 Next on the list, we have Smeg's milk frother, which comes in an old-fashioned yet aesthetic style.  The jug has a heating capacity of 20 oz, while it can froth up to 8.5 oz. It has a smart heating system which suits your heating preferences. The jug is removable, easy to wash, and made of stainless steel with a Tritan lid. It can give the froth of seven different styles: hot light froth, thick hot froth, cold light froth, cold, dense foam, etc. You manually select which type of froth you want for your hot chocolate or coffee.
Available for $99.99 only!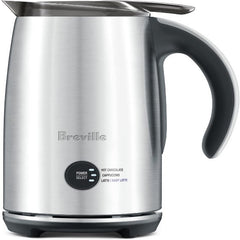 Moving forward, we have another product from Breville. This, too, is a milk frother that is best for making creamy hot chocolates. It can perfectly blend your chocolate chunks or cocoa powder in the milk with perfect frothing. The magnetic whisking power is added speed to the mixture, providing a delicious texture to your hot chocolate.  However, it can also be used for making cappuccino and latte frothing. The jug can produce frothed milk of 8.5 oz capacity at once.
Available for $119.99 only!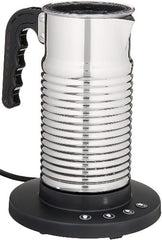 Lastly, we have Nespresso's milk frother. It can produce two types of foam: cold and hot. The frother is ceramic coated, which makes it safe to use and non-sticky even after regular use. It is excellent to make coffee and hot chocolate recipes at home easily.  Add milk to the jug and select with the desired froth style from the buttons. Within a few seconds, milk with a froth of your choice will be ready to pour. Nespresso's milk frother jug is dishwasher friendly, safe, and easy to clean.
Leave a comment