How to Choose Travel Pillow for Long Flights
Do you travel often? And do you find yourself sleeping during long flights and wake up with a sore neck? Well, we have a solution for you. You need to get yourself a travel pillow for long flights. In this article, we look at five in the market. But first, let's see what you need to consider before buying one. 
4 tips for choosing a travel pillow
Travel pillows for long flights come in different designs. The three common include microbead, inflatable, and memory foam pillows. Microbead pillows are packed with small polystyrene beads that change shape with the changing posture of your neck. They are lightweight and come in a compact design.
Inflatable pillows on the other hand require you to inflate to your desired size and firmness. They are cheaper compare to microbead pillows. Also, they are easy to carry since you only inflate them when you need to support your neck.
Finally, the memory foam pillows are the most expensive of the three but offer more convenience. They firmly support your neck by molding it to the shape of the neck. In fact, they are the most recommended of the three.
Truth be told, we have different postures of sleeping, especially when traveling. Some lean backward while others lean forward. Whichever the case, you'll need a pillow that will support your neck sufficiently.
If you find yourself leaning backward or sideways, then a normal pillow will do you good. However, if you are fond of leaning forward, consider buying a pillow with neck braces. They prevent you from tripping forward and hurting your neck.
You should not overlook the fabric of the pillow as many travelers do. Why? Because it might irritate your skin. This is common with plastic pillows. If this is you, then a cotton pillow is your best bet.
 Also, the type of weather should determine the pillow you should carry with you. Fleece pillows are ideal for cold climates while cotton and plastic ones are suited for hot regions.
You should buy a pillow that you can use often especially if you travel frequently. While it might be expensive, it'll be a one-off investment that you won't regret. Also, ensure the zip cover is washable to improve hygiene.
5 best travel pillows for long flights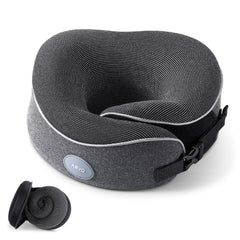 This pillow wraps your neck and adjusts to its shape offering comfortable neck support. It boasts adjustable neck braces that prevent you from tripping forward. If you are susceptible to sweating, this is the right pillow for you since it has an anti-sweat cover. And you can wash it with your machine.
The best part: it is a memory foam pillow meaning it offers much-needed neck support. And to carry it around with ease, it is equipped with a storage bag. It is significantly lightweight and compact allowing you to carry it as often as you want.
Pros
It is lightweight
It offers recommended neck support owing to the integrated memory foam
Ideal for different travelers as it comes with neck braces
Cons
You'll have to carry it in a different bag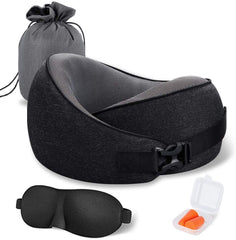 Next on the list is the MLVOC pillow that is well-suited for long flights. You can get it in black, navy blue, and grey colors. Like any other premium pillow, it is made of memory foam that seamlessly molds to the shape of your neck. And with neck braces, you are guaranteed warm safe neck support.
You'll love the soft material that is friendly to your skin. With it, you are free-from skin irritation and excessive sweating. And with a washable zip cover, you can wash it as many times in a bid to improve hygiene. Also, you get earplugs and an eye mask so you can have uninterrupted sleep.
Pros
It is made of durable material
Comes with much-needed accessories
Serves a wide range of travelers
Cons
It is relatively pricey
You cannot deflate it to fit your bag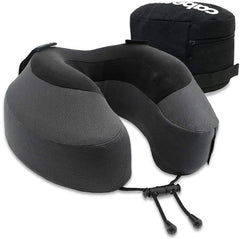 If you want a travel pillow that you can strap to any seat, this is the perfect choice for you. The seat straps prevent your head and neck from dropping forward mitigating chances for injuries. Get it in steel indigo, black, and velvet colors. Furthermore, the pillow is approved by relevant health bodies so you can rest assured it will improve your posture.
Not only can you use it when traveling, but also when watching TV or reading a book. It also comes with a bag so you can easily carry it around. It is machine-washable keeping at bay bacteria that cause skin irritation. Also, its fabric is sweat-resistant ensuring your neck stays dry throughout the journey.
Pros
Comes in different colors
You can strap it to a seat
An ideal option for people with neck pains
Cons
Relatively pricey
It is fairly bulky given its size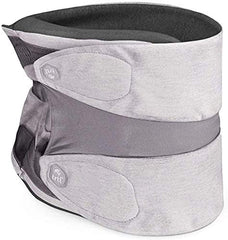 If a minimalistic yet convenient travel pillow is what you desire, you should consider buying the Trtl pillow. It features a compact design that allows you to fit it in your travel bag. Besides, you can use it when traveling by car or rail.
While it lacks seat straps, it comes with adjustable neck braces enabling you to comfortably support your neck. And thanks to its breath ability, you won't experience skin irritation that's a result of heat buildup. It is washable meaning it stays clean preventing the buildup of bacteria.
Pros
Minimalistic design
Highly adjustable compared to others on the list
Can fit in a backpack or travel bag
Cons
It doesn't feature seat straps
It is not fluffy hence might not effectively support the neck effectively
Finally, we have this premium travel neck pillow for long flights that not only supports your neck and head but also your chin. This means you'll have a comfortable sleep as you travel. The interior memory foam material further improves convenience by regulating temperature.
With a neck brace, you don't have to worry about your head dropping forward. And with a carrying bag, you can easily attach it to your luggage. Use it at home or in the open much to your convenience.
Pros
Features a chin support
Lightweight
Offers unmatched neck and head support
Cons
It requires you to carry it in a different bag.
Final verdict
The next time you find yourself spoilt for choice, remember to consider the type, design, fabric, durability, and size of the travel pillow. Also, you can opt to buy either of the above pillows, and neck, shoulder, and back pains will be a thing of the past as you travel.
Leave a comment