How to Maintain Good Posture
If you are one of those people who have a habit of slouching their backs, then you need to stop immediately. As human beings, we always have an urge to improve our habits and be a better version of ourselves. Just like we do things to make our mental health better, we must also take care of our bodies.
Having a good posture is a blessing. It does not only make you look good but also prevent pain and stress from your neck, shoulder, and back. In this guide, we will discuss the importance of a good posture and what mistakes to avoid. 
Why is posture important?
A human body is meant to be in a straight alignment but over time, we start to slouch our shoulders and back that puts tension on our spine, losing its strength. Our spine holds our body in its correct position therefore, this is something we should take seriously! With proper training and exercise, we can regain the right posture.
What can affect my posture?
There are two types of postures i.e. dynamic posture and static posture. The dynamic posture is when you hold your spine in the right position while you are walking, working out, or running. On the other hand, a static posture is when you are holding your spine straight in a still position such as standing, sitting, or sleeping.
Here are some of the habits that can affect your posture:
-       We see people in our daily lives who have a habit of slouching their backs, especially at the office. You can be one of them! Avoid slouching while you are sitting in a chair.
-       Having the right posture during an exercise is crucial. If you have a habit of sticking your hips out, then you need to stop right away!
-       Another habit that we need to avoid hunching over our phone or keyboard while working. It causes neck and shoulder stiffness.
How to Improve my Posture
Training is something you should consider to improve your posture such as yoga and stretching. There are numerous devices that you can also use to get rid of that slouch. Let us walk you through the list of top posture correctors:
Available at $35.98 only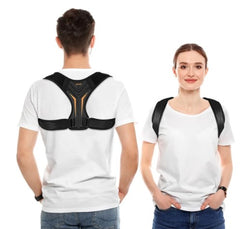 The best thing about having a posture corrector is that it reminds you to keep your shoulders and back straight. AEVO Compact Posture Corrector is our top selection for so many reasons. On the very first use, you will feel the difference in your posture. This corrector also relieves pain, shoulder strain, and boosts your confidence. Whether you are going to the office or on a business trip, wearing this posture corrector would not only look but also keep your spine straight. You can also wear it under your sweater or shirt comfortably as it has a compact design that will easily fit your body. There are three different sizes available!
Available at $29.95 only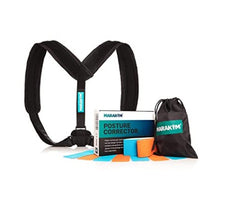 Next on the list, we have is MARAKYM Posture Corrector that ensures your back stability and alignment. This posture corrector can be conveniently used by both men and women. It is available in free size so, you can adjust it according to your body. Now coming to the materials, the clavicle brace is made up of strong and breathable neoprene material that is comfortable to wear! You can follow your routine daily while wearing this posture corrector without feeling discomfort. The package also includes bonus kinesiology tape and a carrying bag!
Available at $79.95 only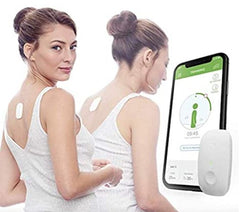 Upright GO Original has brought a different type of posture corrector for its customers. It is a strapless corrector that you can stick to your upper back. Though the feature of gentle vibration, it reminds you to sit or stand in a straight position. The best thing about this posture corrector is that you can have effective results in just two weeks! The posture corrector by Upright GO Original comes with a mobile app that creates your daily goals.
Available at $33.99 only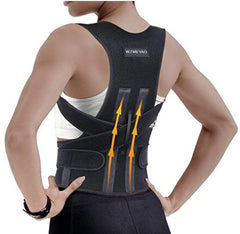 Another incredible product that we have brought for you is the WZMEYAO Posture Corrector for Women and Men. It shows immediate results in just a few uses. The premium back brace reduces tension from your neck, back, and shoulders. You feel more confident when your posture is healthy and straight. You can start by using this corrector for 1-2 hours a day.
Available at $57.95 only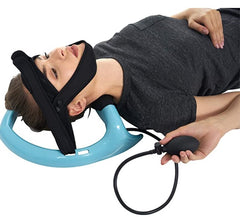 If you are looking for an exercising device to correct your posture at home, this would be the best option for you. This posture neck exercising cervical spine hydrator pump enhances your flexibility and range of motion. You can correct your posture by using it just for a few minutes every day at home. It will not only restore your posture but also your neck curve. 
Leave a comment