Top 10 Tips for Daily Oral Care
Just as it is crucial to take care of your physical and mental health, your oral health requires proper care too. What would it feel to have pink gums and healthy teeth? It may seem like a lot of hard work to put in, in order to get healthy white teeth, there are some easy steps that you can follow daily. These steps should be a part of your lifestyle and not just a one-time effort. Even if you get to hear a lot that you have perfect teeth, you still need to follow an oral health routine. Therefore, it is important to visit a dentist at least twice a year, while performing these practices for a healthy mouth. We have brought the top ten tips for daily oral health that are easy to follow. These daily habits will bring a major change in your oral health. So let's get started to help you get a white and beautiful smile.
1) Make a Ritual of Brushing Your Teeth before Sleeping
According to many studies, it has been proven that brushing your teeth at least twice a day has numerous benefits. Many of us feel lazy brushing our teeth before going to bed, though this is something that needs to be taken seriously. Think of it in this way, would want germs and bacteria to keep growing in your mouth? Of course not! Therefore, it is important to clean your mouth before sleeping to prevent any mouth infections.
2)  Two-minute Rule
Usually, most of us are always in a hurry that we take brushing teeth for granted. Therefore, follow a two-minute rule to remind yourself daily to brush your teeth for at least two minutes, twice a day. You can start by literally using a timer to create a habit.
3) The Tongue is as Important as your Teeth
Do not forget to brush your tongue as it is as important as your teeth. As we have our daily meals and snacks, plaque builds up on our tongue. Therefore, we need to brush our tongue in order to avoid any infection to build up. Cleaning your tongue also keeps you away from bad mouth odor. Be gentle, while brushing your tongue and the key is to take your time while cleaning your whole mouth.
4) Does your Toothpaste have fluoride?
Make sure to check your toothpaste's ingredients to see if your toothpaste contains fluoride. Fluoride helps us keep away from tooth decay as it strengthens the outer layer called tooth enamel. Besides whitening your teeth, it is important to focus on other factors too such as reducing decay and fighting germs. Fluoride is an essential element that will help you achieve better oral health.
5) Floss Daily
If you are not fond of flossing your teeth, you need to start taking it seriously. Just like brushing your teeth every day is important, flossing should be an imperative part of your daily oral routine too. Plaque does not only build up over the tongue and teeth but also in between the teeth. If not removed, it can lead to serious oral health issues such as gum disease and infections. So, make a habit of flossing at least once a day.
6) Incorporate Using Mouthwash on a Daily Basis
Mouthwash is a great way to get rid of germs that buildup up in our mouth. In case, you have missed any area while brushing your teeth and tongue, using a mouthwash will do the job! Mouthwash is also great for balancing our PH level in the mouth. If you are not sure which brand to use, you can consult your dentist for a recommendation. He/she prescribe a mouthwash according to your mouth condition.
7) Quit Smoking
You may have seen yellow stains and black gums in people who smoke continuously. Smoking is injurious to our physical, mental, and oral health. It is important to go for dental checkups on a regular basis as your dentist will remove tartar from your teeth but the ideal case is to quit smoking to have healthy teeth.
8) Check Your Sugary Products Intake
If you have a sweet tooth, try to consume natural sweet food items instead of having junk such as pops, energy drinks, and sodas. These soft drinks have loads of sugar in it that create cavities in our teeth. Try to replace these dangerous-to-health drinks with flavored water such as honey, cucumber, or lemon water.
9) Work Your Jaws up with Vegetables and Fruits
As a matter of fact, fruits and vegetables have numerous health benefits, eating them also makes our jaws strong. Vegetables and fruits are crunchy so as you take a bit and chew them, your mouth muscles and teeth get a good workout.
10) Make Regular Visits to Your Dentists
Do not take your visits to your dentist for granted. The tips mentioned above should be a part of your daily routine but these do not replace with the fact that it is important to get regular dental checkups. A dentist will have a better idea if there is a cavity, tooth decay, and any other infection in your mouth. So, do not try to diagnose or treat at home if you are feeling pain in any area of your mouth. Regular visits to the dentist will keep you away from serious oral health issues!
So now that we have discussed some important oral health tips with you, we have brought some products for you that will help you achieve healthy teeth.
Available at $30.99 only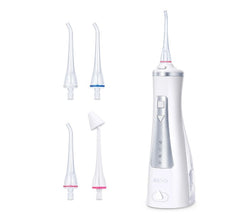 Have healthy teeth with the latest AEVO Cordless water flosser that comes with 4 cleaning modes that are normal, soft, pulse, and manual pulse. This advanced tool will cleanse your mouth faster as it has a 360 degrees rotatable nozzle that produce high-pressure water to the areas which are hard to access otherwise. AEVO cordless water flosser will make your life easy as it is easy to operate and clean your mouth preventing plaque and bacteria. Moreover, recharging this device is easy as it comes with a USB rechargeable battery. You just have to manage settings for once. The next time you floss your teeth, you will get the same settings. Flossing has not been so easy before!
Available at $26.99 only
 Taking care of our oral hygiene should be our top priority. If you want regular and effective cleaning of your mouth, AEVO dental tarter remover is the best safest option for you! This advanced device comes with two removable cleaning heads that allow you to cover all areas in your teeth. It is made up of food-grade and medically proven silicone material that provides you worry-free hygiene. AEVO dental tartar remover also comes with 3 cleaning modes and requires no water to do the cleansing process. You just have to switch between the cleaning modes by pressing a single button. Voila! Your teeth are done. Remove stains and tartar with this effective tool in just a few minutes!
Available at $28.13 only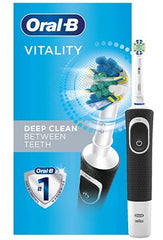 If you are looking for a toothbrush with a floss feature, Oral-B electric toothbrush will provide your outstanding results. It has micropulse bristles that do the deep cleaning of your teeth. This electric toothbrush has also a 2-minute timer that makes this task easy for you as you do not have to manually record the time.
Final Verdict
Oral hygiene should be one of your top priorities. All the tips mentioned in this article will help you achieve better oral health. It is also important to visit your dentist from time to time to stay away from mouth diseases and infections. Happy smiling with healthy teeth!
Leave a comment