Top Ten Best Blackhead Remover Vacuums in 2020
We often feel an urge to pop out blackheads that never go unnoticed whenever we see ourselves in the mirror. Blackheads occur on our skin due to the dirt and dead cells that clog in our skin pores. The clogged substances get oxidize that gives them a black color. Blackheads can also occur due to oil and makeup buildup so if you are a regular makeup wearer, then you must take necessary steps such as cleansing your face daily. There are many DIYs that you can do at home to get rid of your blackheads. But if you need instant results, you must go for a high-quality and effective blackhead remover vacuums. In this article, we are going to discuss the top best blackhead remover vacuums in 2020 that we have gathered after extensive research. So let's get started:  
Available at $27.99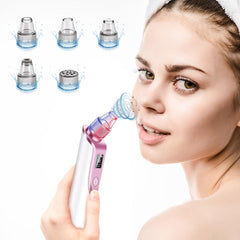 The AEVO Blackhead remover vacuum has a powerful suction system that removes all the blackheads and whiteheads. The method is completely painless. You just have to take a little steam on your face or apply a hot wet towel that will open the pores and make your skin softer. Once done, use this incredible AEVO blackhead remover and see the difference the very first time. It has a compact design that makes it easy to use.
Available at $23.99
This advanced and upgraded skin-friendly blackhead remover vacuum pore cleaner by LONOVE gives you a refreshed look after the very first use. The suction is smooth and powerful without bruising your skin. It pulls out even the stubborn blackheads from your skin giving you a smooth touch. This upgraded device comes with 4 suctions head and 5-grade suction power and is designed for every skin type.
Available at $26.99
The EUASOO blackhead remover pore vacuum has made it up to our top list for its amazing features. First of all, this advanced device is extremely painless as it removes blackheads, dirt, dead skin, and whiteheads easily. Secondly, it is suitable for all skin types and has 1 to level 5 suction modes. You can easily recharge this device and carry it around in your bag!
Available at $23.99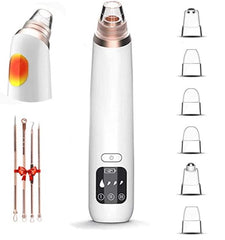 Another incredible selection on this list is the X-CHENG blackhead remover Vacuum that supports the latest heating technology. It comes with 6 suction probs that makes it suitable for every face type. Even the sensitive and vulnerable parts of your face can't go unnoticed. The heating technology helps with opening the pores and removing even the stubborn blackheads.
Available at $24.99 only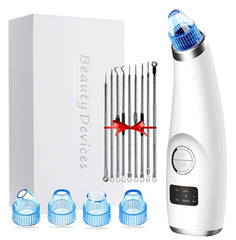 The facial pore cleaner by Pathinglek has come up with an upgraded 2020 design. It cleanses your skin removing blackheads, dirt, and grease without leaving any marks. This super powerful blackhead remover vacuum meets all your cleaning requirements regardless of your skin and face type. The advanced vacuum suction technology cleanses your skin pores effectively. You can choose the level according to your skin and safely clean pores and treat acne. The best thing about this upgraded device is that it comes with 9 pieces free acne removal kit. Enjoy spa feels at home by pampering yourself with this professional SPA skin vacuum care.
Available $42.99 only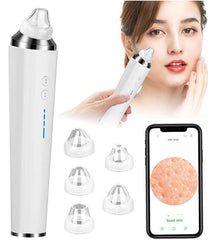 This advanced blackhead remover vacuum comes with a camera feature that allows you to connect with your phone through an app. It gives you a clear view of your skin showing pores. That way it is easier for you to clean your skin. Moreover, this device works efficiently as compared to the other traditional methods as it comes with 6 different suction heads, allowing you to clear out even the stubborn blackheads and whiteheads. This device is easy to handle and portable, therefore, you can have a spa feels anytime and anywhere you want.
Available at $27.99 only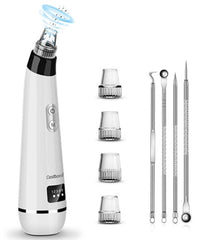 CESTBON blackhead remover vacuum pore cleaner is another best option that shows instant results after the very first use. It has a high-quality vacuum suction technology that works efficiently cleaning all the pores without hurting your skin. Any skin type you have, this advanced technology will pull out all the dirt, dead cells, and blackheads from your skin. It comes with 5 levels of absorption force that you can use on any area of your face depending on the sensitivity. It extremely safe and easy to use at home as you just have to follow the instructions and Voila, the fresh baby skin is back!
Available at $42.98 only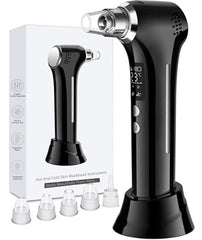 Sovob blackhead remover vacuum is a professional device for pore cleaning. It has an upgraded super strong suction technology that cleanses and rejuvenates your skin instantly. This multifunctional tool has both hot and cold care functions. The heating mechanism softens the skin while opening and pulling out pores. The cooling feature restores the pores once they are cleaned. Taking care of your skin by cleansing the pores should be a necessary part of your routine to avoid bacteria buildup, wrinkles, and lines.
Available at $25.70 only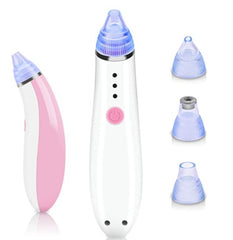 This professional blackhead remover vacuum is a perfect option for you as it is affordable and designed for a variety of skin types. It is portable and has a USB rechargeable system so you do not have to worry about replacing batteries. The high-quality built-in battery takes just 190 minutes for a single charge. This device is perfect for you to use at home and take along on your trips!
Available at $45.99 only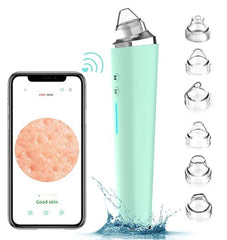 The blackhead remover vacuum by CLEASO has made it to our top list because of many reasons. First of all, you can connect this smart device to your phone or PC via WIFI and see a clear picture of your skin as it has a high-definition lens.  Secondly, there are three working modes in the device that treat all three skin types, which are dry, combination, and oily. It is also easy to use. You just have to use a steamer or place a hot towel on your skin for at least five minutes to open the pores. Then, use this blackhead remover device to rejuvenate your skin by cleaning pores and reducing wrinkles.
Leave a comment