Top Ten Best Hot-Air Brushes of 2020
Hot hairbrushes are becoming as trendy as our lifestyles are becoming more and more engaging. They look like a regular hairbrush but serve much more purpose than that. Firstly, a hot hairbrush generates heat that will dry your hair as you style them. The round-brush shape will effortlessly style your hair while the heat will dry your hair saving your time and effort of using a round brush and a hairdryer. The result of a hot hairbrush is as voluminous and shinny as the result of a hairdryer, just a lot less complex. There is a variety of these hairbrushes available with unique features for every type. Here we have listed Top Ten Best Hot Air Brushes of 2020 designed for your needs.
Available at $36.99 only!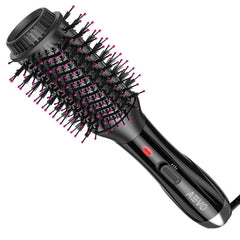 Placing the best one on the top, we have Aevo's all in one hairbrush. It promises to dry, style, curl, and straighten your hair. The delicately made bristles are proven to distribute heat evenly all over the scalp that can massage your scalp and give you a salon-like styling. It comes with a frizz-reduction technique for a sleeker and smoother look. Aevo's hot airbrush is uniquely designed with an easy to grasp grip giving comfort to your hand and a 360° movement. This all-in-one brush has saved you from the struggles of carrying a hairdryer, straightener, curler, and a round brush all the time. The compact design of the brush is travel friendly and can easily fit in your hand-carry so can have a stylist on the go!
Available for $41.99 only!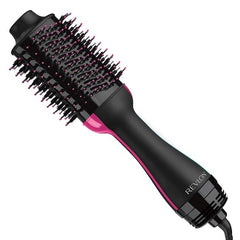 Next on the list is Revlon's One-Step Hair Dryer and Volumizer. The brush has bristles that are uniquely designed to give shine and volume at the same time. Whether you want salon blowout, beach curls, or dead straight, or just a dryer with regular styling; Revlon is the answer. It has an advanced technology that will attain your desired results in one single step! The hot hairbrush is proven to lessen the frizz by 30% in one single-use that will help you manage the volume of your hair. It comes with three heat settings from hot to normal and cool providing you the styling flexibility.
Available for $39.92 only!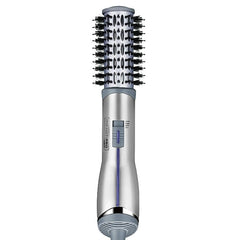 Infinitipro is a titanium Ceramic Hot Air Brush that can style dry to damp hair with a few easy steps. The length of the rod is 1.5 inches that is perfect to style the perfect salon look. It has an advanced ionic technology that will double the shine as you style and reduce the frizz by 3%. The Titanium Ceramic Barrel and the air vents allow the hot air to flow to hair for faster results causing less damage and distributing the heat evenly for ultimate shine and smoothness. The brush has bristles with nylon tapped at ends that provide gentle detangling as you comb your hair.
Available for $69.21 only!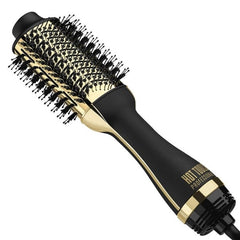 This hot hairbrush is in our 4th place for the luminous blowouts it can give. It has a 24k Gold technology giving an even distribution of heat and a salon-like finish. It maintains an ionic charge on the hair making them look sleek, shiny, and conditioned. Furthermore, the body of this hairbrush has curved edges for a relaxed grip. The chor is 8ft for comfortable hand movements and all the grip you need. Cheery on the cake, it comes with a 7-year warranty so you do not have to worry about anything going wrong with the equipment anyway!
Available for $79.99 only!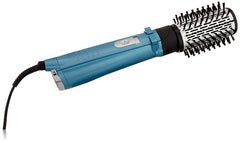 Babyblisspro comes with a rotational rod for exceptional volume, lift, and shine. It has nano-titanium bristles that protect your hair from damage as you style. These bristles are also covered with conditioning ions that seal moisture into hair that will prevent drying or brittle hair. This hot hairbrush has a rotating rod for effortless forward or backward blow-dryers. This rotating action, however, can be turned off if you wish to have a regular straightening effect. Babyblisspro can provide an excellent finish with either way you spin; however, unlike other hot hairbrushes it works best when your hair is 90% dry.
Available for $49.99 only!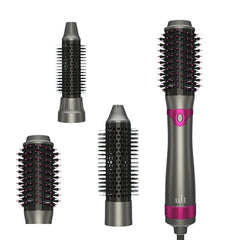 Next on the list, we have Romancelink hot hairbrush. This brush has a unique feature of changeable heads that are perfect for curling, straightening, and regular styling. These heads are detachable based on the type of styling you are opting for. It has tangle-free bristles with nylon tapped at the end pins that leave your hair amazingly shiny as you go. Furthermore, this hairbrush comes with three levels of heat settings: low - for dry and fine hair, medium - for normal hair, and high - for wet or curly hair.
Available for $59.99 only!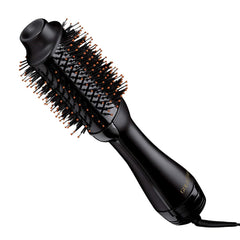 The hairbrush has a unique oval design for a perfect grip. It comes with several air vents for even heat flow so you can have perfect hair. It can tame and reduce any frizz in just one step. It also comes with three temperature choices for low, medium, and high for every hair type. These temperature settings are maintained from an electric supply of 120volt or 220 for some countries.  The brush comes with a 5-years warranty; however, the brush head is non-detachable.
Available for $64.99 only!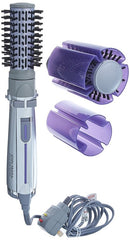 Coming to John Frieda's hot hairbrush, it comes with two detachable attachments. One attachment is 1.5 inches, and the other one is for 2 inches. It has nylon bristles and up to 50% more ionizing technology for extra shine and smoothness. It defines the overall look of your hair with two heating and one cooling setting. This hot hairbrush is designed with safety usage of a power supply of 500 watts.
Available for $69.99 Only!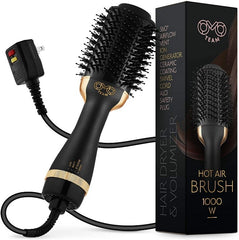 The hairbrush is designed with a safety plug, ceramic technology, and ionic technology. It has round curved edges that provide extra care to the ends and detangle without breaking or damaging your hair. It also has three temperature options and 2-speed options that will provide a variety of styling options. It is 360-degree airflow and dual bristles are perfect for a salon look hair!
Available for $56.99 only!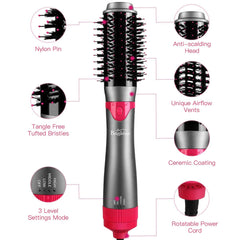 Lastly, we have Brightup's Hot Hairbrush. It has 4 different detachable; for drying, styling, straightening, volumizing, and curling. It is a perfectly oval-shaped brush with 360-degree ease for styling. The advanced ion technology will condition your hair while the comb detangles gently as your style. The comb has nylon pinned at the end which helps control frizz and manages volume.  It has three temperature settings: low, medium, and high for each season and each hair type. The ceramic coating will give a constant temperature and        prevent any damage to your hair. It also has improved noise reduction and meets all the standard safety requirements.
Leave a comment