The 10 Best Compact Posture Correctors of 2020
If you have to sit for long hours to work in your office chair or at home, it must be hard for you to maintain a good posture. The right posture does not only look good but also is healthy for the body. You must be thinking about what the right posture is. Our back muscles are responsible for supporting the skeleton that keeps us in a balanced and stable position. Our daily habits such as sitting in one place for a long time or not having a proper exercise routine can have major effects on our posture. Over time, our back becomes slouchy because it is not in its right alignment.
There are many practices such as yoga and different exercises that will assist you in correcting your back alignment. However, another very popular solution is to use a posture corrector that will help you bring your upper body back to its natural alignment. In this article, we have gathered the top 10 compact posture corrector for you:
Available at $35.99 only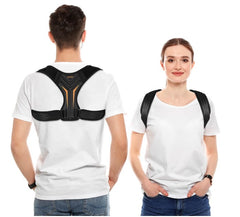 This high-quality posture corrector is available in 3 sizes that are medium, large, and extra-large. The fabric used for this corrector is soft and breathable that easily fits your body under a shirt without causing inconvenience. In addition to that, it has an ergonomic design including curved shoulder straps and additional underarm padding, providing you ease and comfort. The AEVO Compact Posture Corrector is worth trying as many people have used it and found effective results.
Available at $23.97 only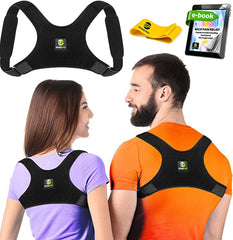 Back Posture Corrector by Evoke Pro is one of the best options for you to correct your posture. It has a compact and slim design that makes it easy to conceal under the shirt. The figure-eight shape distributes pressure equally on both shoulders, bringing your back to its natural posture. If you are looking for a durable and supportive posture corrector at an affordable price, this Evoke Pro Back Posture Corrector is the one for you as it is tried and tested by our experts!
Available at $55.0 only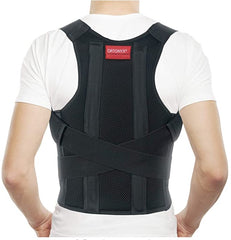 Another best back posture corrector that has made to our top list is ORTONYX Comfort Posture Corrector. It is a true example of comfort because of its unique ergonomic design with an adjustable waist belt and shoulder straps. This high-quality posture corrector can be used by both men and women. It helps straighten the back without causing discomfort. Get rid of spinal curvature and slouchy posture as ORTONYX comfort will help you regain your natural posture.
Available at $27.99 only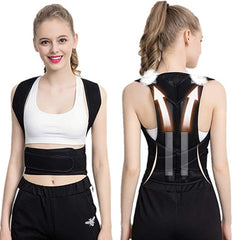 If you want to regain your natural back posture, it does not have to be expensive as ALLIER Posture Corrector is here with strong back support at an affordable price. The beauty of this product is that it won't make you feel uncomfortable at any point. You can easily wear it and see the results in just 5 to 10 minutes of using it. It has a unique latex-free adjustable design and you can be worn over your shirt go out to work or anywhere you want. It is recommended to wear this posture corrector for about 20 minutes every day to see the effective results.
Available at $31.90 only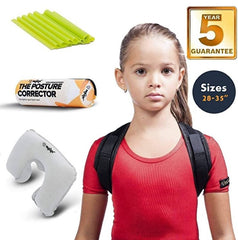 If you are looking for an effective and affordable back posture corrector for your child, there is none other than PANADAY Posture Corrector that you should consider. It comes with chest sizes starting from 35 to 48. As we know that bad posture does not only cause back pain but also discomfort which is why it is important to consider getting your child posture support.
Available at $33.66 only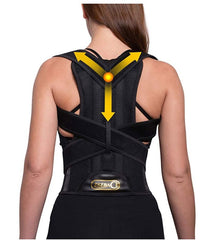 It is time to stop worrying about your slouchy back as you need ZSZBACE Posture Corrector in your life. This incredible back corrector has a unique ergonomic design that will correct your posture within a few days. It is one of our popular options for back support for people who are struggling with their bad posture. You can smoothly put it on or off whenever you want. Improve your confidence and relieve pain with ZSZBACE Posture Corrector!
Available $21.95 only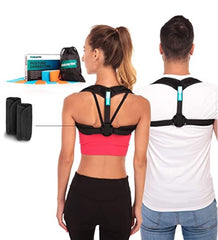 Relieve your back pain by improving your posture with this top-quality posture corrector by MARAKYM. If you are looking for an affordable back posture corrector, then this is the best option for you. MARAKYM Posture Corrector is available in all sizes, which makes it a perfect fit for both men and women. This clavicle brace is made up of strong and durable material that is breathable and easy to wear ensuring stability and alignment. Get rid of your slouchy posture with this incredible product that is easy to wear at your office or home.
Available at $21.99 only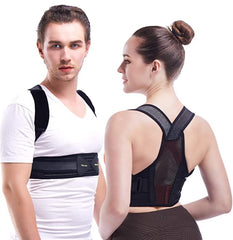 It is time to say goodbye to the bad posture and back pain as MERCASE has brought a high-quality posture corrector for both men and women. MERCASE Posture Corrector has a unique design that provides strong support and comfort while you are wearing in your everyday life. It helps you regain your natural aligned posture by alleviating your neck and back pains. This product is available in three sizes that are medium, large, and extra-large.
Available at $25.99 only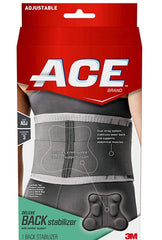 A posture corrector must not add bulk to your body. It must be comfortable to wear anywhere you want. That is what you get with this top-notch ACE Deluxe Back Stabilizer as it is made up of high-quality breathable materials that enhance airflow preventing moisture to build up. ACE Deluxe Back Stabilizer can be used by both men and women!
Available at $21.99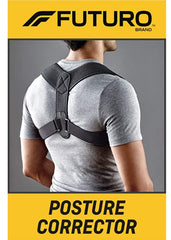 Sitting in one position for long hours can cause discomfort and back pain. Futuro Posture Corrector alleviate your back, neck, and shoulder pain by strengthening your back muscles. It helps you get your natural back posture within a few days. This product is durable as it is made up of stretchy neoprene materials. It also comes with the hook-and-loop straps that make it a perfect fit for anyone!